Making Smarter Systems with IoT and Analytics
Making Smarter Systems with IoT and Analytics
Wednesday, May 25, 2016
09:00 AM - 09:30 AM (PDT) Many systems today play an increasingly important role in our lives and communities. Systems can learn and adopt by themselves without having to follow a structured, predefined execution flow. They are digitally independant and have become smarter, faster and more reliable. Digital intelligence can be embedded not just in individual components but also across entire systems, impacting everything from traffic flows and electric power to the way our food is grown, processed and delivered. This is achieved by employing the capabilities of multiple disciplines. Devices and systems produce large volume unstructured data. Real-time or historical data can be analyzed to uncover hidden patterns, correlations and other insights and this information is then fed into machine learning algorithms that calculates predictions.
WSO2's analytics platform together with the WSO2 IoT Server can provide all these capabilities. This webinar aims to
Identify key capabilities needed when composing a smart system
Explore how WSO2's analytics platform can be used to make a system smarter
Discuss how WSO2 IoT Server manages and enable devices
Presenter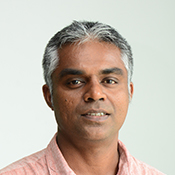 Dassana is a member of the WSO2 Solutions Architecture team. He has provided technology consulting on customer engagements helping them to successfully implement, evolve and operate rapidly-changing resilient enterprise systems based on SOA and EAI at scale in multiple domains ranging from finance (Internet only banks) to IoT (smart cities). He is an experienced coach and speaker with more than 13 years of experience in the industry. He advises and assists CxOs, architects, consultants, analysts and technical specialists in a wide range of architectural disciplines.