An Introduction to the WSO2 IoT Server
An Introduction to the WSO2 IoT Server
Tuesday, June 28, 2016
09:00 AM - 09:30 AM (PDT) WSO2 Internet of Things Server (WSO2 IoT Server) encapsulates everything you need for implementing a server side Internet of Things (IoT) architecture. It features an extensible framework that allows device manufacturers to write plugins and provides integration capabilities for their devices. It also has a strong analytics framework for performing batch, real time and predictive analytics on data streams from devices. This processed device data can then be shared with other consumers allowing integration between devices and/or systems.
In this webinar, Sumedha will introduce the WSO2 IoT Server. He will focus on how device manufacturers and integration architects can make use of existing features of WSO2 IoT Server or extend them to create an end-to-end IoT solution.
Presenter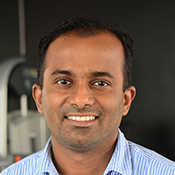 Sumedha has contributed to the successful implementation of data, SAP and repository-based integration projects, as well as many WSO2 QuickStart development consulting engagements. He is an active committer with the Apache Axis2 project. Sumedha's article, Carbon: towards a server building framework for SOA platform, was featured at the Fifth International Workshop on Middleware for Service Oriented Computing in New York.