WSO2 Update Manager: One Stop Shop for All Product Updates
WSO2 Update Manager: One Stop Shop for All Product Updates
Thursday, October 20, 2016
09:00 AM - 10:00 AM (PDT) At WSO2 we continuously improve our products with bug fixes, security fixes, and various other improvements. Every major release of our products is followed by a series of periodic dot releases that include all these recent updates. We want everyone evaluating, developing on or preparing WSO2 products for product deployments to have the best experience by not tripping over bugs, especially those that have already been fixed! WSO2 Update Manager (WUM) makes this process much easier.
This webinar will give you a first-hand look at WUM. It will cover the basics of WUM and answer the following questions:
What is WUM?
What are the benefits of using WUM?
How do you install WUM?
How do you initialize WUM with your WSO2 credentials?
How do you search and add products via WUM?
How do you update WSO2 products and maintain a product repo?
How do you push updated product distributions to your deployments?
Presenter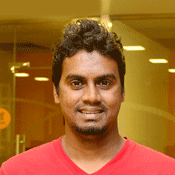 His primary focus is on WSO2 Carbon and WSO2 Web Services Application Server. As a WSO2 intern in 2007, Sameera developed an Axiom version of Rhino's E4X implementation, which is used in the WSO2 Mashup Server. He has also provided technology consulting on customer engagements, including Quick Start Programs, Business Process Execution Language (BPEL), and cloud projects. Sameera has contributed to a number of Apache Software Foundation (ASF) projects, including Apache Axis2 and Axiom. He also was a co-developer of Apache Rampart2. During the 2007 Google Summer of Code, he contributed to the development of JAX-WS templates for the Apache Axis2/Java Codegen tool.