5 Cool Things You Can Do With WSO2 IoT Server
By

Ishara Naotunna

|

12 Sep, 2017
5 Cool Things You Can Do With WSO2 IoT Server WSO2 IoT Server is an open source IoT platform released under the Apache license 2.0. It brings together WSO2's battle hardened technologies from identity and access management, analytics, integration and API management domains to craft a fully-fledged device management framework capable of addressing any industrial IoT scenario.
Join Ruwan, in exploring some of the many things you could do with the upcoming WSO2 IoT Server. These include:
Connecting any IoT Device to the IoT Server
Building faster, leaner and cost-effective solutions with edge computing
Developing versatile solutions for any IoT use case, fast
Monitoring device statistics, triggering alerts, defining policies and getting actionable insights
Scaling up seamlessly from managing 10 devices to a million
Presenter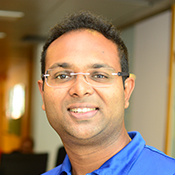 Ruwan is part of WSO2's IoT team. His main area of focus is in the application of WSO2 technologies to connected devices. He has served as a technology consultant for customer engagements and is also a past contributor to the development of WSO2's API management and app management products.