Stream Processing in Action
Stream Processing in Action
Thursday, November 15, 2018 Today, many industries are looking for innovative ways to digitally transform their businesses in order to remain competitive and enhance profitability. There are key technology enablers that support an enterprise's digital transformation efforts, including analytics. Real-time insights of data in motion helps organizations to gain the business intelligence they need for digital transformation.
From a business perspective, the potential benefits that analytics can offer an organization are many — you can use location and contextual data to create better customer experiences; create radically new data-based products for your business; make more informed decisions in complex scenarios; carry out effective monitoring and analysis; detect even the smallest change and trigger immediate action; and extend your solutions to analyze the past, present, and future.
In this webinar we will
Introduce the WSO2 Stream Processor
Discuss stream processing use-cases in a few industries
Demonstrate a stream processing solution for one of the use-cases discussed above
Presenter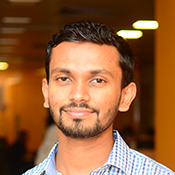 Nirmal is a Senior Lead Solutions Engineer at WSO2 who helps organizations solve their business problems using the WSO2 middleware stack. He has presented in several workshops and meetups organized by WSO2. His areas of interest include data science, machine learning, cloud computing, microservices, and API management. He has contributed, to the Ballerina programming language's testing and documentation framework, and has led the design and development of WSO2 Stream Processor 4.0, WSO2 Machine Learner, the evolutionary PaaS framework, and Apache Stratos where he was a PMC member and a committer. Over the years, Nirmal has been actively involved in open source projects like Apache Tuscany, Apache JClouds, Apache Synapse, and Kubernetes (in its initial days). He has also participated in Google Summer of Code twice and he is a graduate from the Department of Computer Science and Engineering, University of Moratuwa, Sri Lanka.