New WSO2 Enterprise Integrator Focuses on Integration Developer Productivity
New WSO2 Enterprise Integrator Focuses on Integration Developer Productivity WSO2 EI's latest release, Enterprise Integrator 6.5.0, introduces a host of new features and significant improvements. The new version introduces WSO2 Integration Studio, which enhances the developer experience, and a revamped micro integrator profile for better integration with cloud native technologies. The release also incorporates a significant number of improvements and bug fixes based on feedback from users in the enterprise integration space.
Our webinar on WSO2 Enterprise Integrator 6.5.0 will explore the new features and improvements in detail including:
A new IDE (Integration Studio) for integration solution development, which provides a rich user experience and improved developer productivity
A separate distribution and a base Docker image for Micro Integrator with a CLI tool to obtain information on deployed artifacts in Micro Integrator
Runtime improvements for Integrator and Micro Integrator, including improved JSON support
Presenter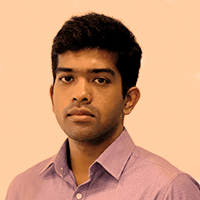 Asanka is a part of the WSO2 Enterprise Integrator team. He is mainly involved in research and development work related to the messaging aspects of the WSO2 platform and Ballerina. He is also actively involved in providing technical consultation for designing and building integration solutions for WSO2 customers in multiple industries, including many Fortune 500 companies. Asanka's main areas of interests include high performance computing, distributed computing, and computer networking.
Sasikala is a part of the WSO2 Enterprise Integrator team. She has been providing consultation for many customers on behalf of WSO2 especially on products like WSO2 Enterprise Service Bus, WSO2 Message Broker. She holds a bachelor's degree in engineering from the Department of Computer Science and Engineering, University of Moratuwa.