Sign In with Apple: A Zero-Code Integration Approach Using WSO2 Identity Server
By

WSO2 Team

|

10 Jul, 2019
Sign In with Apple: A Zero-Code Integration Approach Using WSO2 Identity Server
Watch Videos and View Slides
Who wouldn't want to integrate their business with 1.4 billion consumer devices? In WWDC 2019, Apple announced "Sign in with Apple": the new identity provider feature that will be mandatory for all App Store apps soon. From a customer identity and access management (CIAM) perspective, this is a great opportunity for enterprises to seamlessly connect with the 1.4 billion Apple device users worldwide.
This webinar will explore how you can integrate "Sign in with Apple" with your enterprise software using a zero-code approach. We will discuss:
What is "Sign in with Apple"
What CIAM challenges does "Sign in with Apple" pose
How you can leverage WSO2 Identity Server to integrate with "Sign in with Apple"
Once you watch this webinar, you'll only need a few minutes to integrate with "Sign in with Apple". It's that simple!
Presenters
Ishara is a key member of the WSO2 Identity Server team. He has been part of the WSO2 Team for 7 years. Ishara successfully completed the Google Summer of Code program in 2011 with Apache Software Foundation and has implemented xmlID support to Xerces2 Java Parser. Ishara has been involved in many customer engagements by providing solutions to their business requirements, especially in the identity and access management space. He has been involved in several internal and external webinars and has published several articles on identity and access management.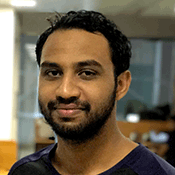 Farasath has been a part of the WSO2 Identity server team since 2015. He focuses mainly around the IAM and Security domain. Farasath took part in Google Summer of Code 2015 and completed implementing User Managed Access (UMA) 1.0 for WSO2 Identity Server.