Extended Support for Ellucian Ethos Identity
Hundreds of universities rely on Ellucian Ethos Identity for identity and access management across their Ellucian systems. But this powerful product can help federate identities across the whole range of your educational institution. Underlying Ellucian Ethos Identity is a full-featured WSO2 Identity Server, capable of unifying your identity challenges into a single reliable system.
Ellucian offers a level of support, but with WSO2 Extended Support for Ellucian Ethos Identity you can do more:
Enterprise-grade premium SLA, with 24x7x365 unlimited incident support. For cost-conscious users, we also offer a basic support SLA, with 24x5 incident support with up to three Severity 1 incidents and no limits on Severity 2+ incidents.
No exclusions from support for any WSO2 Identity Server features, including integrations outside the set of Ellucian family products and strategic partners supported by Ellucian.
Query support to answer any questions you have about product usage, development or migration advice, product tuning, or best practices.
Access to WSO2 Update services providing continuous access to bug fixes and security updates.
Supports either Ellucian Ethos Identity distributions or WSO2 Identity Server distributions.
Optional consulting services to help with training, development, operations, migration, and more.
Contact us to find out more about this offering, or for a complimentary review of your identity architecture and requirements with one of WSO2's identity specialists.
Modernizing the Student Journey with Ellucian Ethos Identity
Presented by Head of Solutions Architecture - IAM at WSO2, Johann Nallathamby at Ellucian Live 2022: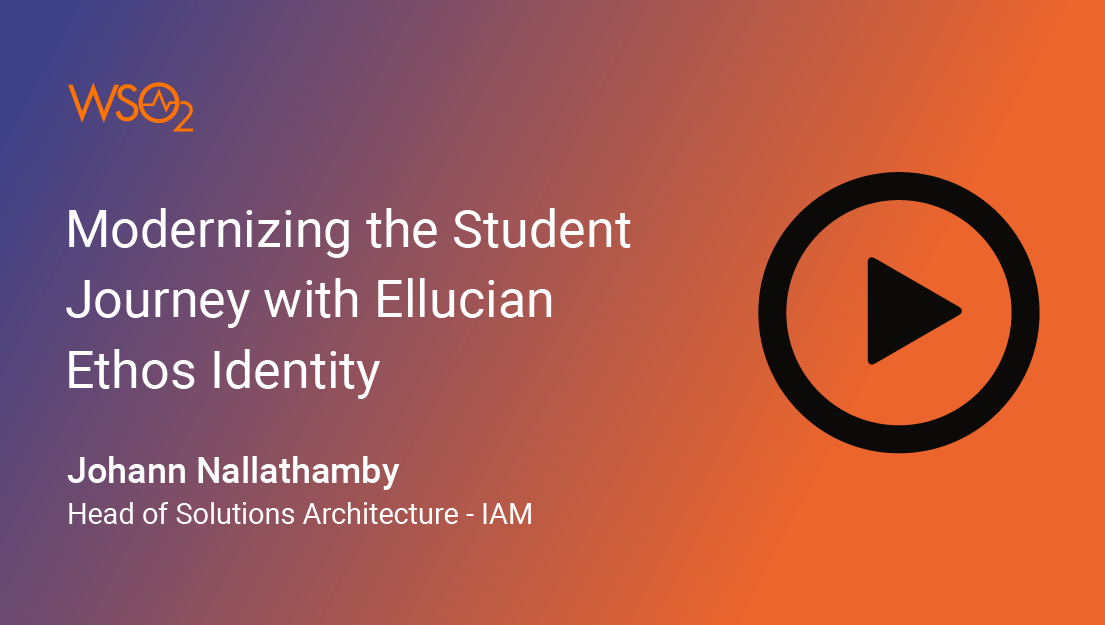 What more can you do with
Ethos Identity?
Presented by VP of Security Architecture at WSO2, Prabath Siriwardena at Ellucian Live 2019: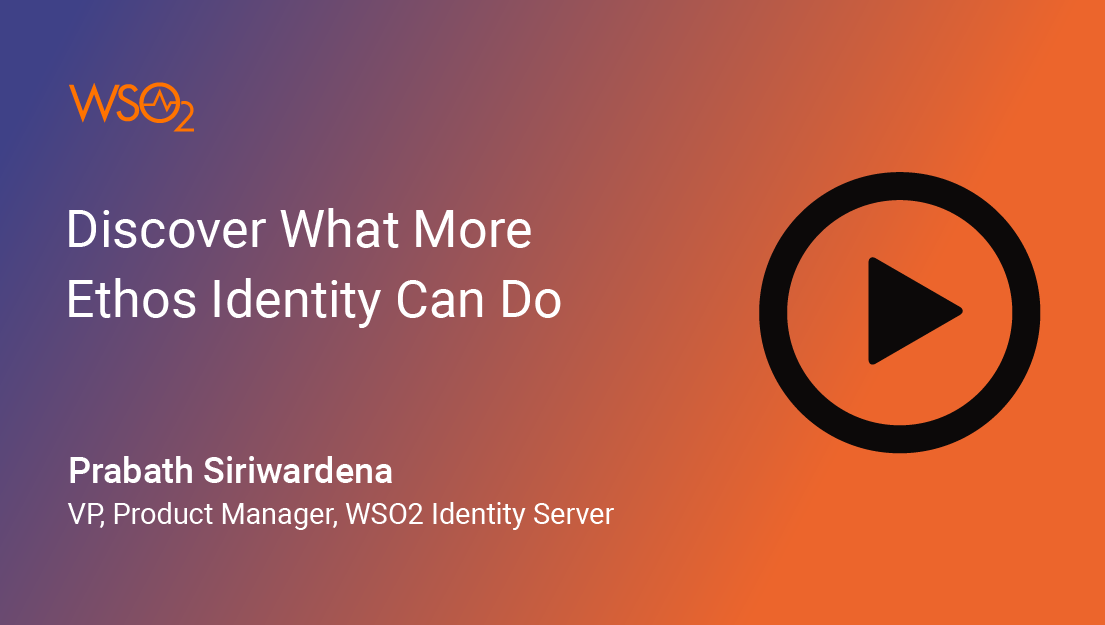 About WSO2
Founded in 2005, WSO2 is the world's #1 open source integration vendor, helping digitally driven organizations become integration agile. Brand-name customers choose us for our broad, integrated platform, approach to open source, and agile transformation methodology. The company's hybrid platform for developing, reusing, running and managing integrations prevents lock-in through open source software that runs on-premises or in the cloud. With offices in Australia, Brazil, Sri Lanka, Germany, UK and US, WSO2 employs over 600 engineers, consultants and professionals worldwide. Today, 100's of leading brands and 1,000's of global projects execute over 5 trillion transactions annually using WSO2 integration technologies.
About Ellucian
Inspired by the transformative impact of education, Ellucian develops solutions that power the essential work of colleges and universities. As the world's leading provider of software and services designed for higher education, Ellucian works with more than 2,500 institutions in nearly 50 countries—enhancing operations and enriching the experience for over 18 million students.
Ellucian provides student information systems (SIS), finance and HR, recruiting, retention, analytics and advancement software solutions. With more than 1,400 institutions subscribing to Ellucian's cloud services and SaaS offerings, the company is one of the largest providers of cloud-based solutions in higher education. Ellucian also supports the higher education community with a range of professional services such as application software implementation, training, education, and management consulting.
Ellucian brings power, passion, and performance to bear for higher education, and its ability to better our world. Visit Ellucian at www.ellucian.com.