WSO2 App Manager was created as a mechanism to offer a standalone solution for publishing and managing all aspects of an application and its lifecycle. We currently have this capability within WSO2 Identity Server (WSO2 IS), and we encourage you to continue to use WSO2 IS to manage your applications.
If you are currently using WSO2 App Manager as a standalone product please contact us
We will of course support it as needed or help you migrate to the right higher level product.
WSO2 App Manager is a complete solution for publishing and managing all aspects of an application and its lifecycle. 100% open source, it also provides an unique one-stop store solution where users can pick and choose apps, and is highly scalable.
Businesses can leverage WSO2 App Manager's Single-Sign-On (SSO) functionality, which reduces help desk and administrative costs with no long lists of passwords required. It also automatically applies a security layer on top of the Web apps published in the store, which eliminates the need to embed security rules at the application layer, making it a very robust solution.
Capabilities
WSO2 App Manager combines three main components - a proxy developed using WSO2 Enterprise Service Bus (App Gateway), a web-interface for publishing web and mobile apps (App Publisher) and a storefront (App Store).
Put together, these allow the accurate distribution of apps and licenses, version tracking, shared authentication, as well as centralized access and authorization. iOS, Android, Hybrid and Web apps can be published and managed via a central interface. It also allows multi-tenancy, policy management and fine-grained access control, allowing you to control which users and groups within your organization can access applications and how they do this.
WSO2 App Manager leverages WSO2 Identity Server for SSO across web applications and tools such as WSO2 Data Analytics Server and Google Analytics to visualize statistics.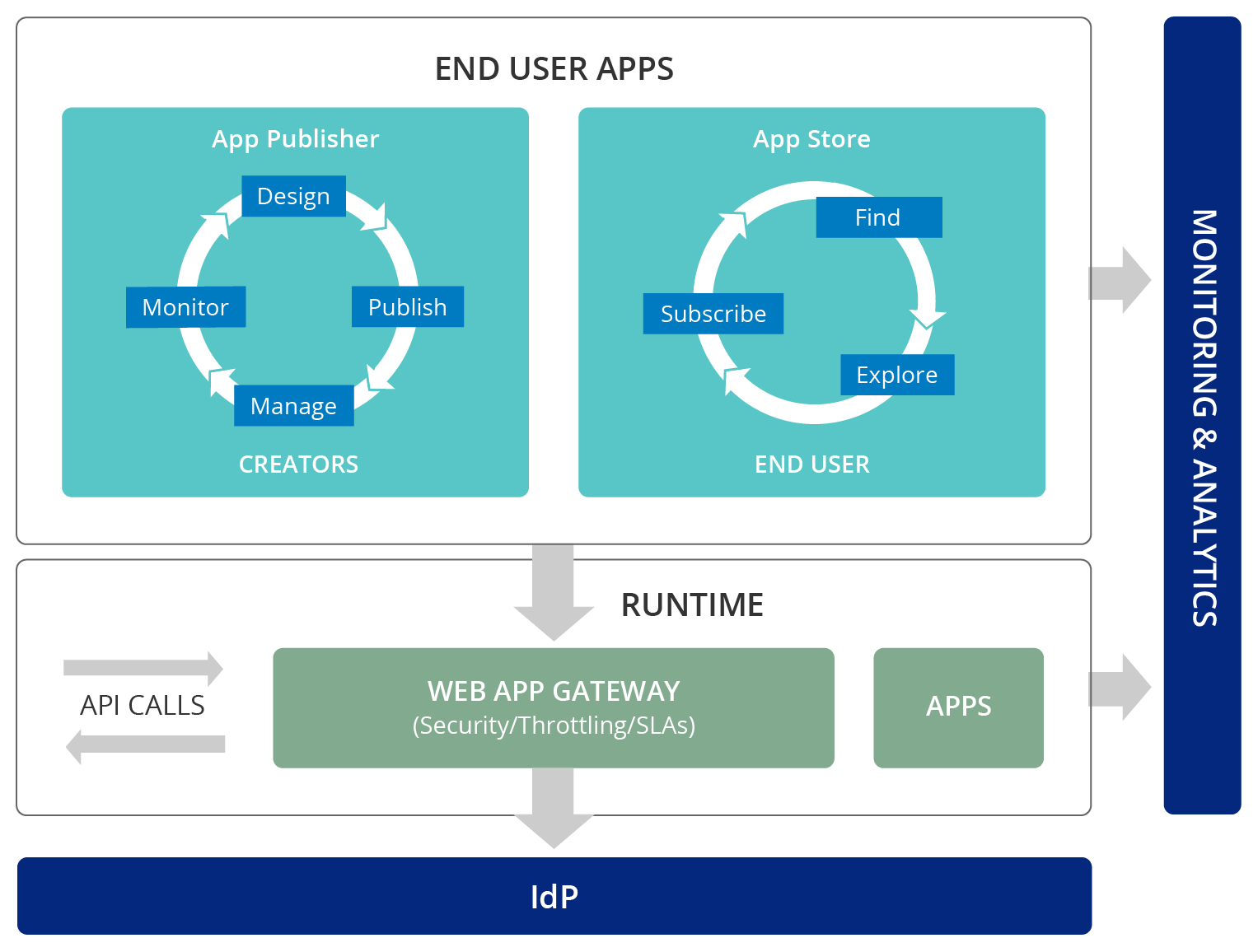 Features
Find and consume enterprise applications
Discover applications on a unified, web-based app store, also accessible on mobile
Self-subscribe to applications, access documentation, comment and rate
Enjoy single-sign-on across web applications, preventing the need to memorise multiple passwords
Hassle-free application management and monitoring
Publish applications to a unified app store modelled on popular store interfaces
Wield role-based access-control (RBAC) for application submission and secure app store access
Complete app lifecycle governance (publish, deprecate, retire) for public and private apps
Enforce rate limiting and throttling policies for application access
Workflows to approve subscription, app publication and self-sign-up, with pluggable workflows for privileged operations
Out-of-the-box integration with third-party apps (e.g. Google Apps and Salesforce)
View metrics by user, app and more
Control behavior and security
Comprehensive management and monitoring Web console with enterprise-level security
Fine-grained policy based access control via XACML
Audit logs for both App Store and App Publisher
Application sharing, giving logged-in users the ability to share apps across tenants
Just-in-time provisioning for creating identities on the fly
Support for SCIM standard 1.0 and automatic provisioning of users to Salesforce/Google Apps
Multi-factor authentication and Single Sign-On (SSO) via OpenID, SAML2, and Kerberos KDC
Integrate and scale for performance
Integrates with WSO2 Identity Server for authentication management
REST API for integrating identity management to any application
Flexible support for user stores, either built-in LDAP (powered by ApacheDS) or external LDAP (Microsoft Active Directory, Apache Cassandra, or any JDBC database)
Extensibility for pluggable authenticators, XACML/SAML extension points, and more
Easily deployable to on-premise servers, private cloud, or managed cloud, with clustering for highly available deployments
Scalable to millions of users using proven routing infrastructure
Integrates with WSO2 Data Analytics Server or Google Analytics for statistics
Integrates with WSO2 Enterprise Service Bus to connect with any existing enterprise system