Toolboxes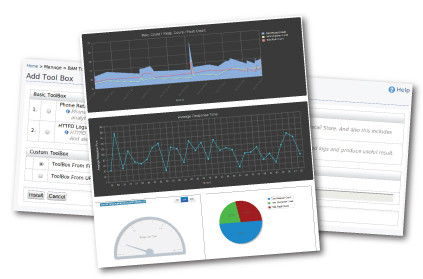 A toolbox in BAM is an installable archive, with a .tbox extension. It contains necessary artifacts that models a complete usecase. These artifacts are optional and only the ones available in the toolbox will be deployed.
For more help refer to Toolboxes Documentation.
Available toolboxes for this version of BAM is listed below.
ToolBox Name
Description
Supported BAM Version
Supported WSO2 Products
Activity Monitoring
Activity monitoring toolbox is intended to filter the messages passed through a set of monitoring nodes (e.g. a set of BAM mediators) and see their content in each node.
2.3.0
Download Select database
2.2.0
Download
2.0.1
Download
HL7
The HL7 toolbox is intended to analyze HL7 messages which comes from HL7 data agent in ESB
2.5.0
Download
HTTPD Logs Analysis
HTTPD Logs toolbox is intended to show the capability of WSO2 BAM, which can analyze the raw HTTPD logs and produce useful results. It also includes analytics and visualization gadgets for analyzed data of HTTPD logs.
2.5.0
This is intended to be a sample toolbox to demonstrate analytics and visualization capabilities of WSO2 BAM.
Download
2.4.0
This is intended to be a sample toolbox to demonstrate analytics and visualization capabilities of WSO2 BAM.
Download
2.3.0
This is intended to be a sample toolbox to demonstrate analytics and visualization capabilities of WSO2 BAM.
Download
2.2.0
This is intended to be a sample toolbox to demonstrate analytics and visualization capabilities of WSO2 BAM.
Download
2.0.1
This is intended to be a sample toolbox to demonstrate analytics and visualization capabilities of WSO2 BAM.
Download
2.0.0
This is intended to be a sample toolbox to demonstrate analytics and visualization capabilities of WSO2 BAM.
Download
JMX
JMX Stats toolbox is used to collect JMX statistic data from JMX-enabled servers.
2.5.0
Download
2.4.0
Download
Mediation Statistics Monitoring
Mediation Stats Monitoring toolbox is designed to monitor the mediation statistics of WSO2 ESB. This toolbox enables monitoring of the ESB proxy services, sequences, and endpoints statistics with attractive dashboards.
2.5.0
Download Select database
2.4.0
Download Select database
2.3.0
Download Select database
2.2.0
Download
2.0.1
Download
Mobile Web Channel
Mobile Web Channel Monitoring toolbox is used to monitor web channels and mobile channels, analyze the data, and visualize them.
2.5.0
Download
2.4.0
Download
Phone Retail Store
Phone Retail Store toolbox is intended to monitor the key performance indicators (KPIs) of a phone retail store. It also includes analytics and visualization gadgets for the phone retail store.
2.5.0
This is intended to be a sample toolbox to demonstrate custom KPI building capabilities of WSO2 BAM
Download
2.4.0
This is intended to be a sample toolbox to demonstrate custom KPI building capabilities of WSO2 BAM
Download
2.3.0
This is intended to be a sample toolbox to demonstrate custom KPI building capabilities of WSO2 BAM
Download
2.2.0
This is intended to be a sample toolbox to demonstrate custom KPI building capabilities of WSO2 BAM
Download
2.0.1
This is intended to be a sample toolbox to demonstrate custom KPI building capabilities of WSO2 BAM
Download
2.0.0
This is intended to be a sample toolbox to demonstrate custom KPI building capabilities of WSO2 BAM
Download
Realtime Traffic Monitoring
Realtime Traffic Monitoring toolbox demonstrates the real-time analytic features of WSO2 BAM by using the integrated WSO2 CEP features.
2.5.0
Download
2.4.0
Download
Service Stats Monitoring Version
Service Stats Monitoring toolbox is a fully fledged toolbox to monitor WSO2 servers with service hosting capabilities. This include application server, data services server, enterprise service bus, business rules server, etc.
2.5.0
Download Select database
2.4.0
Download Select database
2.3.0
Download Select database
2.2.0
Download
2.0.1
Download
2.0.0
Download
Web application Stats Monitoring
Web application stats monitoring toolbox can be used to analyze statistics of requests and responses of web applications deployed to WSO2 Application Server. The toolbox can monitor the requests/response, analyze them, and visualize the analyzed data.
2.5.0
Download
2.4.0
Download