The Forrester Wave™: API Management Solutions, Q3 2014
WSO2 Cited as a Strong Performer with the report noting, "In our reference checks, WSO2's customers were extremely satisfied with the vendor."
In the Forrester Wave: API Management Solutions, Q3 2014 report published September 29, 2014, WSO2 is cited by Forrester Research Inc. as a strong performer. The report's findings were based on a 40-criteria evaluation of the 11 software vendors Forrester has identified as the most significant providers in the API management solutions category.
The Forrester Report states, "WSO2's open source platform provides many opportunities to extend API management. Aside from being the only fully open source solution, the unique feature for WSO2 is the ability to extend API management features by adding in other categories of software, such as complex event processing, security integration, or business process management."
WSO2 is happy to offer a complimentary copy of this report.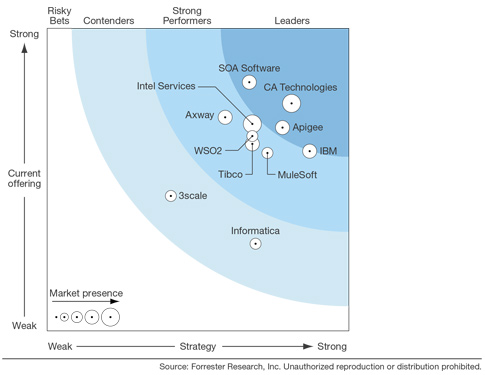 Download the Analyst Report
Disclaimer: The Forrester Wave™ is copyrighted by Forrester Research, Inc. Forrester and Forrester Wave are trademarks of Forrester Research, Inc. The Forrester Wave is a graphical representation of Forrester's call on a market and is plotted using a detailed spreadsheet with exposed scores, weightings, and comments. Forrester does not endorse any vendor, product, or service depicted in the Forrester Wave. Information is based on best available resources. Opinions reflect judgment at the time and are subject to change.