WSO2 NAMED A LEADER BY FORRESTER
THE FORRESTER WAVE™: API MANAGEMENT SOLUTIONS, Q3 2020
The solution particularly well suits buyers with strategies that combine integration, APIs, and microservices with a desire for the benefits of open source."
HIGHEST SCORE POSSIBLE IN COMMERCIAL MODEL AND PLANNED ENHANCEMENTS CRITERIA
Forrester Research Inc. has cited WSO2 as a Leader in the Forrester report.
The Forrester Wave™: API Management Solutions, Q3 2020 report evaluated the 15 most significant vendors across 26 criteria.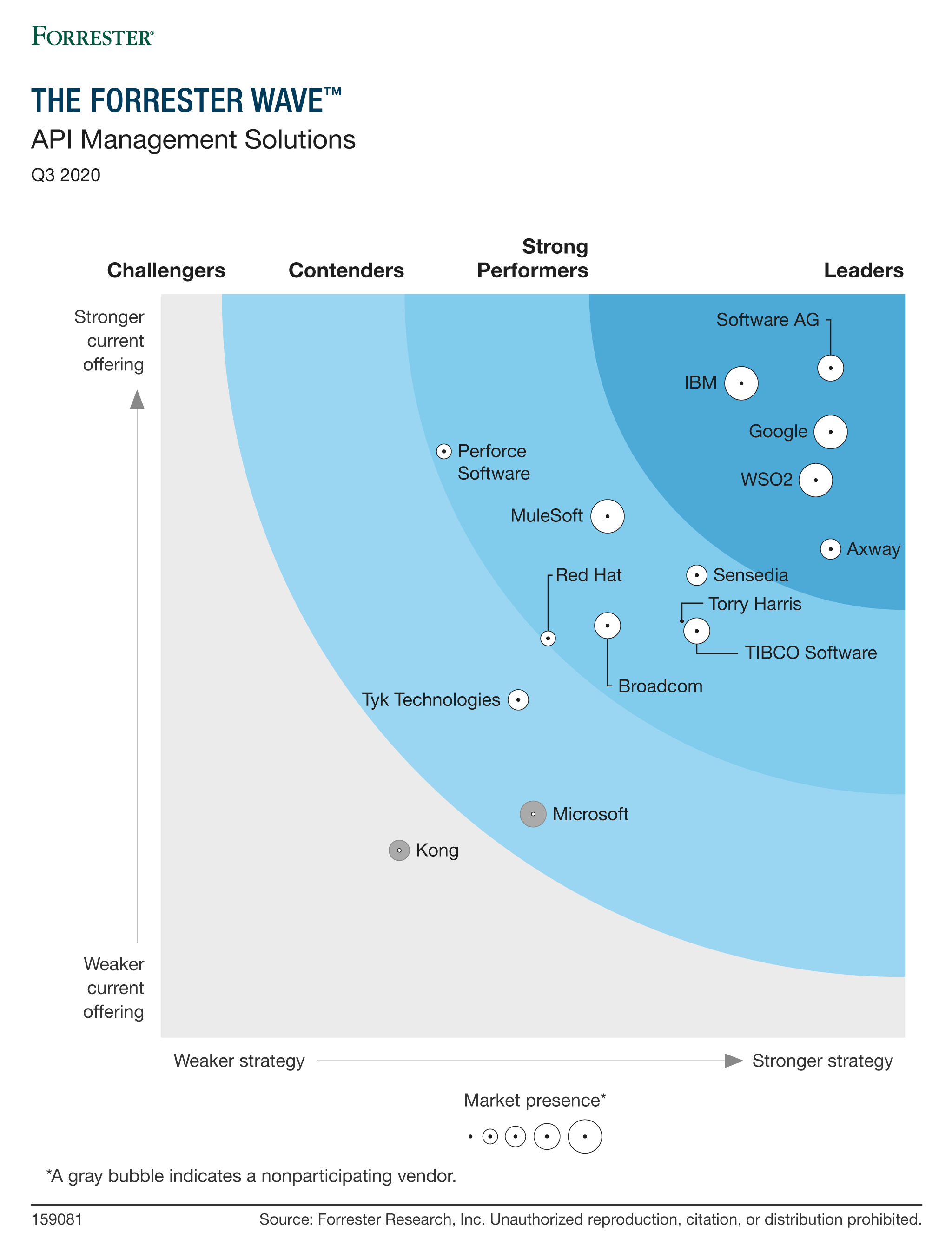 Following its evaluation, Forrester Inc. recommends that API customers must look for vendors that:
Align with their API strategy.
Support their governance and API user engagement needs.
Support cohesive API design processes.
API driven business models play a decisive role in the market today and organizations are looking for feature-rich, robust API management solutions. WSO2 received the following scores in these specific criteria for it's API management tool: product architecture (4.40), commercial strategy (5.0), planned enhancements (5.0), and ecosystems and commercial models (4.80), based on Forrester's 5.0 scale.
Our fully open source API lifecycle management solution, WSO2 API Manager, provides enterprises with API management tools to create APIs, manage APIs, consume APIs, test APIs, and monitor APIs. And, it helps you to address a breadth of API challenges, including API governance, API monitoring, API security and API provisioning. WSO2 API Manager comes with an API Designer and Publisher, a Developer Portal, an API Gateway, and API analytics. Furthermore, WSO2's API management platform offers GraphQL support, AWS Lambda support, and a Kubernetes API Operator.
As an open source API management solution, there's no vendor lock-in, giving enterprises greater flexibility to adapt the technology and customize it according to their unique needs—all the more important at a time when staying innovative is a priority.
Organizations around the world, across verticals, use WSO2 API Manager. Read their stories.
The Forrester Wave™ is copyrighted by Forrester Research, Inc. Forrester and Forrester Wave are trademarks of Forrester Research, Inc. The Forrester Wave is a graphical representation of Forrester's call on a market and is plotted using a detailed spreadsheet with exposed scores, weightings, and comments. Forrester does not endorse any vendor, product, or service depicted in the Forrester Wave. Information is based on best available resources. Opinions reflect judgment at the time and are subject to change.