The API-driven World
APIs are touching every facet of our society and the underlying trends that are going to generate nearly 1 billion APIs in the coming years. All digital transformation is now API-driven and integration technologies underpin their evolution.
Join us for a full day of vision and use cases, exclusively focused on integrating a world of disaggregated APIs, cloud services, and data. We'll concentrate on topics like the impact of APIs on digital transformation, adopting integration agile methodologies, and Open Banking in Australia.
At WSO2 Summit, you'll learn about
Approaches to integrating, securing and managing APIs, events and streams
Transforming integration projects from waterfall to agile
Combining enterprise integration, API management, and identity solutions
The business benefits of Open Banking in Australia
How to easily write microservices that integrate with APIs using Ballerina
Using open source technology for greater customization and flexibility
You can look forward to interactive discussions with WSO2 senior leadership, Australian and New Zealand customers and practitioners.
Who should attend:
CTOs, CIOs, CSOs, and CDOs


wanting insights into building internal digital platforms other approaches to digital transformation

Enterprise architects and integration architects


craving direct insight into using disaggregated services and building microservices architectures
08:30 - 09:00
Registration & Breakfast
09:00 - 09:30
APIs and integration is suddenly the hottest sector in enterprise software!
Tyler will discuss how APIs are touching every facet of our society and the underlying trends that are going to generate nearly 1 billion APIs in the coming years. All digital transformation is now API-driven and integration technologies underpin their evolution.
As the world becomes digitally-native, how will the role of enterprise architecture shift? How do we leverage cloud native and agility initiatives?
In this session, Tyler will discuss
The impact APIs are having on digital transformation
WSO2's roadmap for API-driven initiatives
A reference architecture for agility
A new agility methodology for integration
How microservices will pervade integration products
Our commitment and role of Ballerina (cloud native programming language)
New channel and reseller programs for partners
.
Tyler Jewell, CEO, WSO2
09:30 - 10:00
As your organisation transitions into the digital economy it creates new opportunities to generate value. Your organisation is collecting and generating more and more data every day. The exposure of organisational data through APIs enables your customers, partners and peers to innovate, creating new digital experiences and enabling new outcomes for Australian Citizens and Enterprises.
One of the first things to occur when an organisation opens the data flood gates is that your partners will request API services with the ability to create and update your data holdings.
Embracing new risks can be challenging for government organisations who are held to a higher level of expectation when compared to some of their private sector counterparts. Data is one of the most valuable organisational assets and there is often a tendency to heavily govern or limit access. This may be appropriate but may unduly limit innovation and productivity.
Matt Lewis, Managing Director - Capability Wise, will describe how his organisation has been working with various Australian Government agencies to help them better understand the motivations, desires and needs of their key API Consumers. This is preparing them to deliver secure, integrated and event-driven government services and responsive policy interventions.
Matt Lewis, Managing Director, Capability Wise Pty Ltd
10:00 - 10:30
In this session, we will explore the challenges of enabling integration agile teams. The shift from CoE to a Composable Enterprise requires organizational change. Agile teams are fundamentally self-organizing and we will explore what that means, how to enable it, and what the boundaries of a self-organizing team should be.
Asanka Abeysinghe, Deputy CTO and VP of Architecture, CTO Office, WSO2
10:45 - 11:30
The number of microservices running in enterprises increases daily. As a result, service composition, governance, security, and observability are becoming a challenge to implement and incorporate. A "cell-based" architecture is an approach that can be applied to current or desired development and technologies to address these issues. This technology-neutral approach helps cloud-native dev teams become more efficient, act in a more self-organized manner, and speed overall release times.
In this keynote, Asanka will introduce the "cell-based" reference architecture, which is API-centric, cloud-native, and microservices-friendly. He will explain the role of APIs in the cell-based approach, as well as examine how real applications are built as cells. Asanka will explore the metrics and approaches that can be used to measure the effectiveness of the architecture and explore how organizations can implement the cell approach.
Asanka Abeysinghe, Deputy CTO and VP of Architecture, CTO Office, WSO2
11:30 - 12:00
Open Banking from the Trenches: How European Banks Got It Right
Vidura Gamini Abhaya, Senior Director – Solutions Architecture, WSO2
13:00 - 13:45
Successful digital strategy requires the ability to change and adopt to establish your digital presence. APIs create the connectivity required to share enterprise data and digital capabilities across many channels over the Internet. So how do you go about creating and managing an API program while navigating the inherent challenges of exposing your internal capabilities outside the enterprise and sustaining it? In this session we will look at how to craft a successful API strategy.
Vidura Gamini Abhaya, Senior Director – Solutions Architecture, WSO2
13:45 - 14:15
Not long ago, Australian Catholic University (ACU) was among the many organizations working through a legacy of point-to-point interfaces among its enterprise application portfolio.
Challenges centering around enterprise-level data ownership, identifying single-source of truth, and visibility of data sharing between business systems were further aggravated by a need for higher levels of maturity in information management practices such as data lifecycle management, information security, data flow visibility and accountability within the university.
These issues mandated the IT directorate to introduce a central data sharing platform – the Enterprise Integration Hub (EIH), allowing the university to embark on Service-Oriented Architecture (SOA) and pave the way for an API-based ecosystem enabling seamless integration among internal and external systems and partners.
Over the past 18 months, the University has created APIs around student datasets and integrated with a purpose-built student portal and public websites. Student datasets are also being shared through the API cloud with external partners in a secure manner. Currently, we are working on human capital management datasets and are sharing these through the latest version of WSO2 Enterprise Integrator.
Enabled by the API-centric integration development processes and platform, ACU in the very near future will also develop microservices bringing better mobility and service options to the wider university stakeholders as well as exploring potential monetization opportunities with industry partners and employers through the platform.
Niranjan Prabhu, Chief Information Officer and Director of Information Technology, Australian Catholic University

14:15 - 15:00
As businesses increasingly adopt APIs to expose their services, it's important to make sure they are integrated and secure. That's why today, identity plays an important role in securing APIs and is no longer a mere SSO or an enterprise security project. All such identity "projects" that deal with securing APIs, bridging and federating identities, and managing user consent, eventually become a part of a larger digital transformation journey.
Customer identity and access management (CIAM) is one of the best examples of an IAM-driven, integration project. APIs and integration, scalability, strong & adaptive authentication, analytics, security, and privacy are key pillars of CIAM. Thus, it's vital that IAM is considered a key enabler for integration agility.
This talk will illustrate why IAM should be top of mind for your enterprise's success, and how you can leverage it in your transformation journey.
Sagara Gunathunge, Director, WSO2
15:15 - 16:00
Ballerina
- Cloud Native Programming Language that Makes it Easy to Write Microservices that Integrate APIs
Lakmal Warusawithana, Senior Director - Cloud Architecture, WSO2
16:15 - 16:45
In this session, Souvik will discuss
An overview of Qantas
The digital transformation journey for Qantas
The role of APIs in enabling Qantas' digital transformation journey
API management and ways of working with it
Souvik Mukherjee, Domain Owner - Integration, Qantas Airways Limited

16:45 - 17:15
The industry seems to be moving away from pure open source businesses. WSO2 is going the opposite direction, maintaining a strong commitment to open sourcing our products and open sourcing even more of our IP, building communities, making expertise available to our customers, and bringing transparency to our business culture and operations. This session explains why we believe our strategy of openness is fundamental to the success of WSO2 and our customers.
Jonathan Marsh, VP - Business Experience, WSO2
17:15 - 18:00
Networking Drinks
x

Tyler is a proven enterprise leader and prolific developer-centric investor. At Codenvy, he founded and built a category-leading cloud DevOps company acquired by Red Hat in 2017. Tyler created and led Eclipse Che, an open source Docker development environment with contributions from 100s representing the world's largest software companies. As a Toba Capital partner, angel, and board member, he's led $100 million in developer investments including Cloudant (acquired by IBM), Sauce Labs, Sourcegraph, ZeroTurnaround, InfoQ, and AppHarbor (acquired by Microsoft).

Matt Lewis

Managing Director,
Capability Wise Pty Ltd

x

Matt Lewis is the Managing Director of Capability Wise Pty Ltd, an Australian Technology Management and Digital Transformation Consultancy. Matt has been supporting government agencies over the last 8 years to introduce secure digital services and API-drive architectures. Matt has also worked closely with the Digital Business Council and OASIS to transform the procure-to-pay lifecycle across the Australian economy.

Matt started his career as a software engineer but has since held all manner of roles including IT Executive, Programme Manager and Enterprise Architect. Matt has a passion for Digital Transformation and believes that success requires more than just great technology. Successful transformation requires a willingness to challenge the status quo at a strategic business process level, supported by empathetic and ongoing engagement with the people involved in the operation of that process.

Matt has Bachelor of Computing and Commerce from the University of Tasmania, is active in the global standards community, and has over a decade of experience working with some of the country's most challenging IT environments.

Souvik Mukherjee

Domain Owner - Integration,
Qantas Airways Limited

x

Souvik is an IT exec within the Qantas Group who owns the Qantas Group Integration Platform and enterprise services. He is a lead integration architect within the organization and an API evangelist. He is also the vice chairman of the Open APIs board of IATA, driving industry standards for delivering APIs consistently across the value chain of the travel industry.

Niranjan Prabhu

Chief Information Officer and Director of Information Technology, Australian Catholic University

x

Niranjan is the Head of Information Technology Directorate. In his role he is responsible for the overall ICT strategic planning and governance of ACU. The Information Technology Directorate is a professional business unit with a customer service focus. Its vision is to deliver high quality ICT strategic services to support learning, teaching, researching and business function within the university.

Asanka Abeysinghe

Deputy CTO and VP of Architecture,
CTO Office, WSO2

x

Asanka drives efforts to create, refine, and enhance WSO2's corporate reference architecture and spearheads the thought leadership outlook that defines WSO2's corporate reference methodology for development, customer success, and implementation. Asanka has over 20 years of industry experience, which includes designing and implementing highly scalable distributed systems, SOAs and microservice architectures in the financial domain, mobile platforms, and various business integration solutions.

Vidura Gamini Abhaya

Senior Director – Solutions Architecture,
WSO2

x

Vidura is Senior Director - Solutions Architecture at WSO2. In his role he provides technical guidance to customers in architecting solutions based on their current and future needs, using the WSO2 platform. Prior to joining Solutions Architecture, he was Senior Director - Engineering and has led analytics, integration, platform and financial solutions teams. He is an experienced technologist and an executive with over 15 years of global experience in the software industry covering many domains such as finance, logistics, aviation and energy. He has worked in the US, Europe and Australia.

Sagara Gunathunge,

Director,
WSO2

x

Sagara is a part of the team that spearheads WSO2's architecture efforts related to identity & access management. He also oversees work on WSO2 Identity Server that helps enterprises become GDPR compliant and has written various helpful resources on how to meet the compliance deadline including best practices in Privacy. He specializes in J2EE, Spring, Web Service and enterprise integration related technologies. He is also a PMC member of Apache Axis and Apache Web Services Projects.

Lakmal Warusawithana,

Senior Director - Cloud Architecture,
WSO2

x

Lakmal Warusawithana is the Senior Director – Cloud Architecture of WSO2. Lakmal has a long history of working in open source, cloud, and DevOps technologies and has been Vice President of Apache Stratos PaaS Project. Lakmal is the core architect and key contributor for containerization and deployment orchestration of Ballerina, cloud native programing language. Lakmal has also presented at numerous events, including ApacheCon, CloudOpen, QCon, JaxLondon, Cloud Expo, Cloudstack Collaboration Conference, WSO2Con, and many tech meetups.

Jonathan Marsh,

Vice President - Business Experience,
WSO2

x

Jonathan Marsh joined WSO2 in 2006 and has served as VP of Business Development and currently is the Vice President - Business Experience, helping develop and implement scalable models for sales, marketing, partnerships, alliances, and OEM programs. Prior to joining WSO2, Jonathan spent nearly a decade at Microsoft where he worked to develop and standardize an array of XML and Web Services technologies.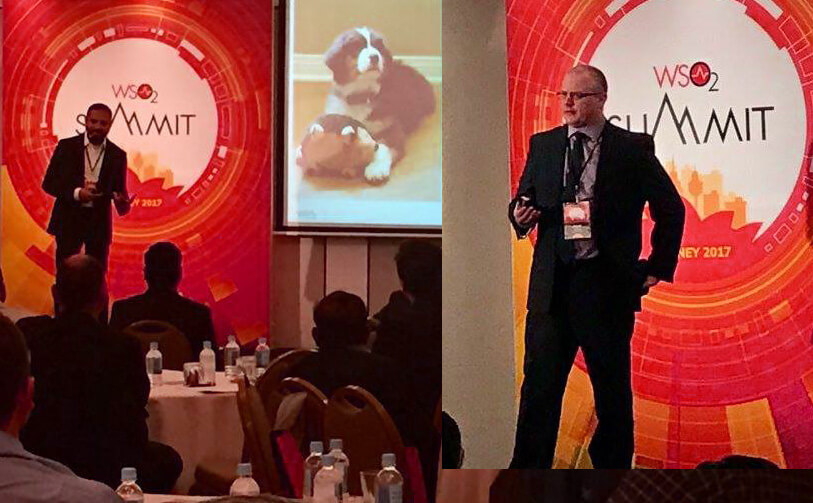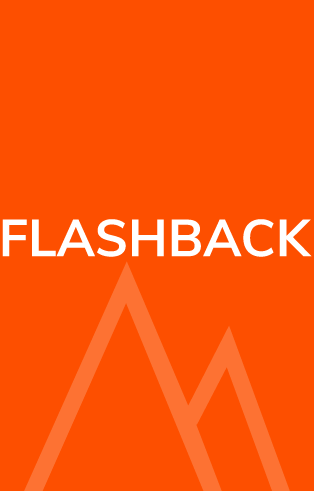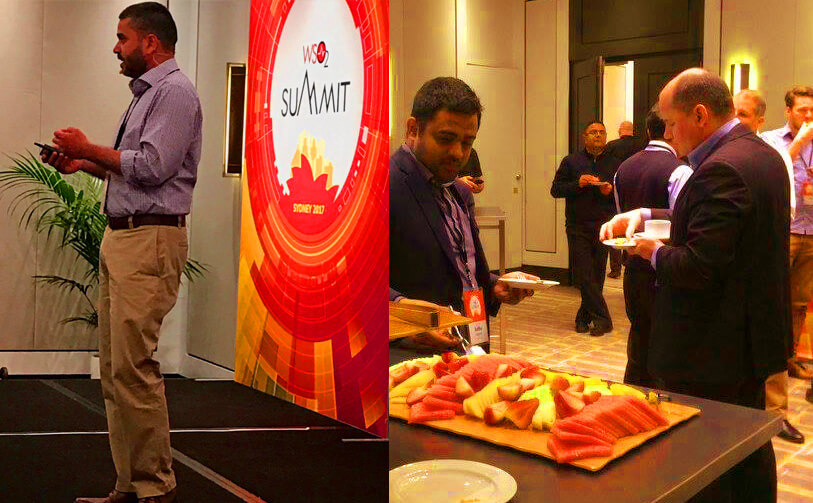 Thursday, March 7, 2019 | 8:30 a.m. - 18:00 p.m. Add to Calendar

Shangri-La Hotel, 176 Cumberland Street, The Rocks,
Sydney NSW 2000 Australia

Have any questions? Contact us