How does WSO2 deliver its technology to you?
WSO2 is committed to our customer's success in using our products. We have multiple ways we can help you utilize our technology.

Delivery
Where the product is operated by you, the customer:

The most common way enterprises use WSO2 products is to download them and use them directly themselves in servers they provide. All WSO2 products are downloadable this way and come in easy to consume packages that can be installed in very short time and up and running frequently in a few minutes.
All of WSO2 products can be deployed and operated in a cloud infrastructure out of the box, i.e. they are cloud-native. multi-tenant. This can be on-premise private cloud or a private or a public cloud vendor infrastructure.
All of WSO2 products can be operated in a "elastic" manner, which means that if you use WSO2 PaaS to deploy a WSO2 product you only pay for the support hours the product is actually in use and for the number of instances you use. So, if your demand varies during the day you only pay for what you use.
Most of WSO2 products can be run from our public WSO2 Cloud site. You can deploy and run WSO2 products immediately without having any hardware yourself.

Where WSO2 operates the product on your behalf:

Most of WSO2 products can be available and operated for you under your SLA either in your facilities or public or private cloud provider's facilities. Please contact WSO2 for specific quotes to provide this service.

Where WSO2 operates products for you in a shared environment with other WSO2 customers:

Coming early 2014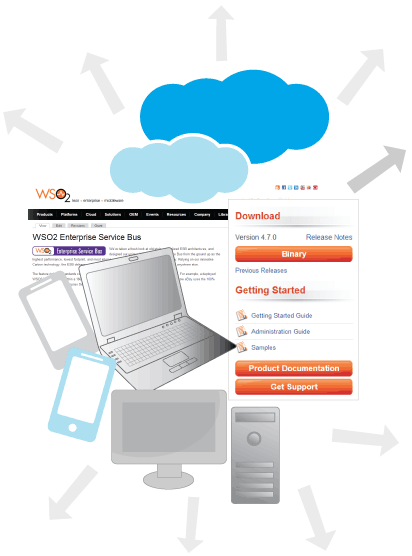 Services
Production Support
WSO2 provides you 24x7 support for your mission critical software. We will respond to any problem within 1 hour of being notified. We will offer solutions in less than 24 hours in most cases. We are committed to supporting the most demanding enterprise customers whether a telephone company, financial company or a retail web operation that could lose millions in minutes with a down service.
Quickstart
The most common service besides production support that customers utilize is the quickstart. WSO2 will send 2 or more engineers who are highly qualified in the products you want to use for a week or two usually to help you stand up a proof of concept or even in some cases help you put a use case into production. We work with you beforehand to specify what it is we will do, send people to work directly with your people and offer phone and off-site support afterwards to get your POC successful. In some cases customers order multiple back-to-back quick starts. Quickstarts are a way to jumpstart your team in using WSO2 technology and get something done quickly too.
Development Support
WSO2 will provide developers to perform customized work for you or help you use our products. Development support can include customized training to support your use case of WSO2 products.
Training
WSO2 works with partners to offer training for customers on its products. WSO2 certifies the students in these training classes. Please contact us for the latest training schedules.
Architecture Support
WSO2 will send senior architects to help you understand the best practices use of WSO2 technology and to help you design solutions using WSO2 technology.