Sign up for this session to learn the capabilities of WSO2's SOA, API management, and integration platform.
In this webinar Dassana Wijesekara, a solutions architect at WSO2 will identify key capabilities needed when composing a smart system and explore how WSO2's analytics platform and WSO2 IoT Server can be used to achieve this.
http://connect.wso2.com/wso2/regw/reg/systems_smarter?WN=Webinar 2016-05-25 Making Smarter Systems with IoT and Analytics
In this webinar Randy Heffner, an analyst and Forrester Research, will demonstrate how enterprises can create and implement a successful API strategy. Isabelle Mauny, the vice president of product management at WSO2, will then explain through use cases how choosing the proper API management platform can set yourself on the road to success for API-led business transformation.
http://connect.wso2.com/wso2/regw/reg/webinar_registration?rwkey=PDT-8046-140055835&WN=Webinar 2016-05-26 API Management is not Enough: You Need an API Platform - PDT
In this webinar Johann Nallathamby, a technical lead at WSO2, and Malithi Edirisinghe, a senior software engineer at WSO2, will deep dive into enterprise security patterns and antipatterns, explore the importance of using them and discuss how to apply them with WSO2 Identity Server
http://connect.wso2.com/wso2/regw/reg/Patterns_Antipatterns?WN=Webinar 2016-05-31 Patterns and Antipatterns in Enterprise Security
In this webinar Dmitry Sotnikov, the vice president of Cloud at WSO2, will give an overview of WSO2 App Cloud and WSO2 API Cloud and explore the vision and roadmap of the WSO2 Cloud platform.
http://connect.wso2.com/wso2/regw/reg/webinar_registration?rwkey=PDT-8033-116931539&WN=Webinar 2016-05-31 WSO2 Cloud Platform: Vision and Roadmap - PDT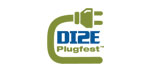 The DI2E Plugfest is the annual demonstration of advancements in the DI2E. This event brings industry and Department of Defense (DoD) programs together to show how technology is changing the future of the DoD ISR environment. It would be a great opportunity to leverage the integrator-developers' environment to address and attempt to solve the complex interoperable data exchange problems DoD has in sharing, consuming, retrieving, and correlating data among the Warfighter, Intelligence, and Business Mission Areas.
WSO2 will be an exhibitor at this event.
In this webinar Dimuthu Leelarathne, a director at WSO2, will discuss the security requirements of an enterprise and how to build an efficient identity and access management system with centralized authentication and authorization.
http://connect.wso2.com/wso2/regw/reg/security_requirements?WN=Webinar 2016-06-01 Enterprise Security Requirement
In this webinar Malaka Silva, a senior technical lead at WSO2, and Thanuja Jayasinghe, a senior software engineer at WSO2, will describe WSO2 Identity Server's extension architecture through connectors and demonstrate how to do multifactor authentication and user provisioning.
http://connect.wso2.com/wso2/regw/reg/building_ecosystem?WN=Webinar 2016-06-02 Building a Larger Ecosystem Around WSO2 Identity Server with Connectors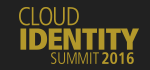 Hosted and coordinated by Ping Identity, Cloud Identity Summit is one if the leading identity industry events. CIS brings together some of the best of industry and enterprise presenters and experts to share insights and to synthesize new ideas.
Microservices, first discussed way back in 2011, is the one of the most trending buzzwords today , along with the Internet of Things (IoT). With the granularity of the services and the frequent interactions between these two, securing microservices has become challenging. In this talk, Prabath will present a security model based on OAuth 2.0, JWT and XACML to overcome such challenges.

Prabath Siriwardena
Director – Security Architecture, WSO2
Securing Microservices with OAuth 2.0, JWT and XACML
Park Plaza Riverbank, London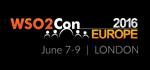 Agility Through Digital Transformation
Witness inspiring keynotes and success stories on how enterprises are winning with our cutting edge technologies in a connected world, WSO2Con Europe 2016 is tipped to be a great opportunity to engage and learn more from the WSO2 team of experts and others in our community.
In this webinar Dakshitha Ratnayake, a lead solutions engineer at WSO2 will discuss the concepts, use cases and technologies of the big data landscape and explore the capabilities and applications of the WSO2 analytics platform.
http://connect.wso2.com/wso2/regw/reg/analytics_enterprise?WN=Webinar 2016-06-15 Analytics in Your Enterprise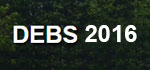 The ACM International Conference on Distributed Event-Based Systems (DEBS) aims to provide a forum dedicated to the dissemination of original research, discussion of practical insights, and reporting of experiences relevant to event-based computing. The conference also provides a forum for academia and industry to exchange ideas, for example, through industry papers and demo papers.
The Grand Challenge this year focuses on analysing the properties of a time evolving social-network graph generated using LDBC (Linked Data Benchmark Council) Social Network Benchmark. Malith will present a paper titled 'Continuous Analytics on Graph Data Streams using WSO2 Complex Event Processor', which describes the solution proposed, the experiments, results, and how the performance of the solution was optimised.
WSO2 is a Grand Challenge sponsor at the event.

Malith Jayasinghe
Director, WSO2