Micro Integrator
An intuitive, configuration-driven integrator with a graphical drag and drop designer based on the same battle-tested WSO2 EI/ESB runtime.
At a glance
WSO2 Micro Integrator
WSO2 Micro Integrator is an open-source, cloud-native integration framework with a graphical drag-and-drop integration flow designer and a configuration-based runtime for integrating APIs, services, data, and SaaS, proprietary, and legacy systems.
This is based on the same broadly adopted and battle-tested WSO2 EI/WSO2 ESB runtime used in previous versions. It has been optimized for container-native deployments based on Docker and Kubernetes.
Micro Integrator supports both centralized (ESB style) and decentralized (microservices, cloud native) architectural styles.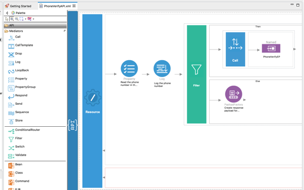 Benefits
GRAPHICAL, DRAG-AND-DROP INTEGRATION
Integration Studio enables intuitive and agile integrations with a graphical, drag-and-drop interface and a data mapping UI with an integration configuration language to boost developer productivity.
CLOUD NATIVE
A container friendly, optimized, lightweight runtime with a low-memory footprint and a fast startup time. Seamlessly works with Docker and Kubernetes (EI Kubernetes Operator).
A COMPLETE HYBRID INTEGRATION PLATFORM
Integrate APIs, services, data, file systems, messaging systems (ActiveMQ, RabbitMQ, and Kafka), SaaS applications (Salesforces, Amazon S3, and SQS), and proprietary applications (SAP).
HYBRID DEPLOYMENT OPTIONS
Micro Integrator supports seamless deployments on on-premises, hybrid, and, multi-cloud environments and enables enterprises to become fully flexible.
MICROSERVICES OR ESB STYLE INTEGRATION
Ideal for building distributed integrations based on microservices or conventional, centralized, ESB-style integrations.
DEBUGGING, UNIT TESTING, AND CICD
Enables debugging integration flows with a graphical or textual debugger, unit testing your integrations, and seamless CICD integration (Jenkins, Travis).
FAST, PROVEN, AND BATTLE TESTED
It is the fastest integration runtime and is battle tested to scale up to process billions of transactions across thousands of deployments.
Observable: Logging, Metrics and Tracing
Seamless integration with ELK, Prometheus, and Jaeger.
Connectors
WSO2 Micro Integrator has nearly 200 ready-to-use connectors designed to integrate with many popular enterprise systems. What's more, all the connectors are 100% open source and freely available for download.
Low-code Integration with Integration Studio
Integration Studio, a graphical drag-and-drop integration flow designer, allows integration developers to start with predefined integration templates/samples to implement integration scenarios.
The Role of
WSO2 Micro Integrator

in Microservices Architecture
Micro Integrator Developer Workflow
Micro Integrator CI/CD workflow