WSO2 Complex Event Processor
Data to insight in a flash, routine business operations – a flight landed, a credit card processed, a package shipped – generate a constant high volume, stream of events. In a fast changing and competitive business climate identifying meaningful patterns from large sets of incoming data events, from multiple sources in real time, helps to become a more agile connected business. It allows you to anticipate risks or flag opportunities in real time, thereby responding to urgent business situations with both speed and precision.
WSO2 Complex Event Processor (WSO2 CEP), helps to identify the most meaningful events within the event cloud, analyzes their impacts, and acts on them in real time. From helping healthcare providers develop real time clinical decision support systems, to monitoring buildings and tracking vehicles in smart cities, WSO2 CEP is highly performant, massively scalable, and offers significant savings in both cost and time.
WSO2 CEP is 100% open source and is part of the WSO2 Analytics Platform, where it provides a real time analytics pipeline.
WSO2 Complex Event Processor
Capabilities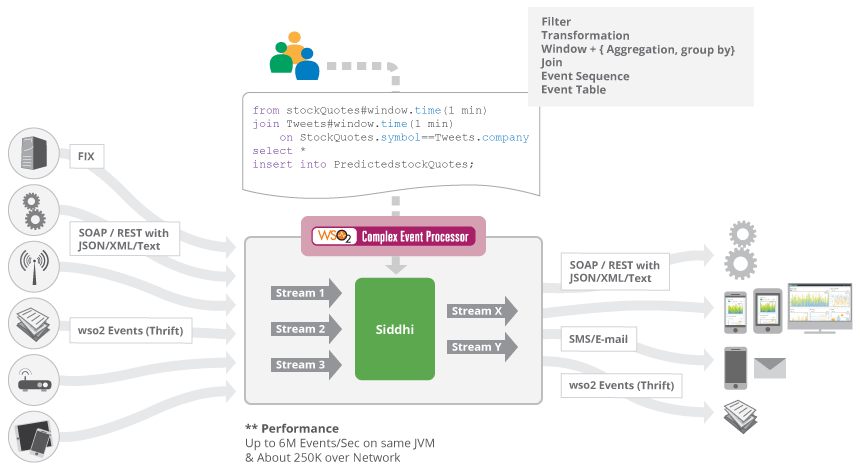 WSO2 CEP facilitates real time event detection, correlation and notification of alerts.
SQL-like queries can be written with the high performance Siddhi CEP Engine to capture events from various data sources through different protocols and data formats. These events can be then analyzed via temporal correlations between event streams with historic data, which in turn enables detection of complex event patterns.
Detected events and alerts are published to various backend systems via different protocols and data formats, with visualization support.
WSO2 CEP provides enterprise level management, statistics, debugging and tracing support for the whole event flow, enabling highly scalable and high availability deployments.
Performance
100K+ events per sec over network on commodity hardware (e.g. 4 core 4GB CPU)
Capable of processing 6M events per sec with events generated from same JVM
Features
Process data in motion, and analyze in real time.
Powerful, extensible language for stream processing, powered by WSO2 Siddhi.
SQL like query language providing intuitive and complex event processing support.
Supports filtering by conditions, the ability to create and join event streams, execute temporal queries using various windows, event tables and partitions, and identifies sequences of event occurrences.
Visualize, monitor and act in real time
Template based, configuration driven execution plan design
Event tracing, try-it, event flow visualization and event simulation capabilities
Built-in collection and monitoring of standard access and performance statistics
Effective real time dashboard with support for gadget generation
Connect and integrate with anything.
Support for many transport receivers, including for the Internet of Things (IoT)
Data publisher agents to plug into enterprise systems
Easily extend for scalability and high availability
Extensible use case driven toolbox support including fraud detection, time series, geo fencing and natural language processing plugin.
Supports high availability deployment.
Supports distributed event processing with Apache Storm and Siddhi.
Supports long running queries via persistence support
Getting Started
Quick Start Guide