WSO2 Data Analytics Server is a comprehensive enterprise data analytics platform; it fuses batch and real-time analytics of any source of data with predictive analytics via machine learning. It supports the demands of not just business, but Internet of Things solutions, mobile and Web apps.
In a business context, this effectively helps enterprises to gather insightful information and make well-informed decisions, monitoring this insight via user-friendly dashboards. In broader applications, this allows for any cluster of events to be analyzed, monitored, and even predicted.
WSO2 Data Analytics Server 3.0 is an evolution of WSO2 Business Activity Monitor 2.5.0, built to better serve the needs of today's connected enterprise.
Data Analytics Server
Version 3.1.0
Capabilities
WSO2 Data Analytics Server can collect data streams, run them through batch, real-time, interactive, predictive (to be announced) analyses and then communicate these as actionable insights via APIs, dashboards, alerts and queries. It's unique in that these analyses can be run simultaneously, using data from IoT, mobile or Web applications, giving you the ability to publish the data just once and analyze both data in motion and data at rest with the same software.
WSO2 DAS incorporates Apache Spark, the open source cluster computing framework for large-scale data processing. For interactive analytics, there's Apache Lucene. It also builds on the fast performance of the WSO2 Siddhi CEP engine by adding streaming regression and anomaly detection operators to facilitate fraud and error detection - and this is in addition to a wealth of features meant for easy visualization and communication of data and knowledge.
Put together, this brings the capability to collect, organize and analyze data that would have been previously inaccessible or unusable, from sensors to existing business systems.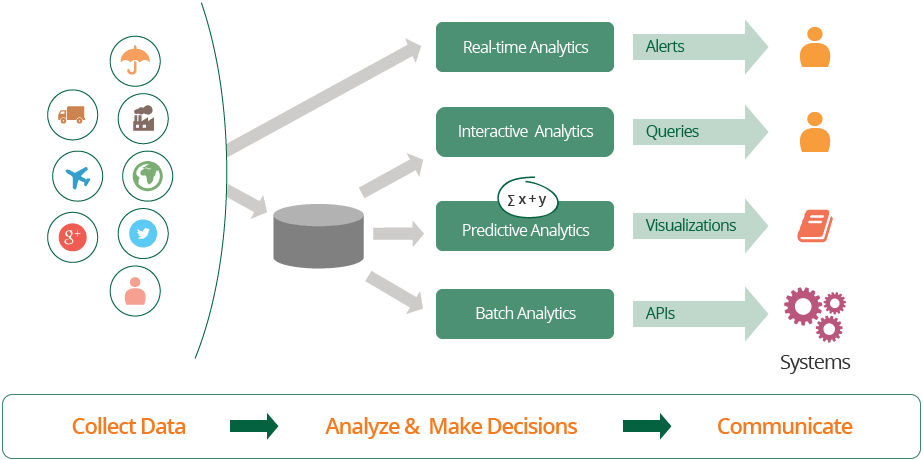 Features
Collect data from any source
Receive data from almost any event source through java agents (Thrift,Kafka,JMS), javascript clients (Web Sockets,REST), IoT (MQTT) and from over 100 WSO2 Enterprise Service Bus Connectors
Publish events to one API for real-time, batch or combined processing
Access analytics service via comprehensive REST API
Integrated Real-Time, Batch, Predictive and Interactive Analytics
Execute batch programs faster (up to 100X faster than Hadoop MapReduce in memory)
Incremental analytics for more efficient batch processing of large datasets
Full text searching, complex query lookup, with distributed indexing support through Apache Lucene for interactive analytics
Predictive analysis via integration with WSO2 Machine Learner
Detect patterns (i.e: fraud detection) by correlating events from multiple data sources in real time through the high performance, open source CEP engine powered by WSO2 Siddhi
Correlate/filter events at the edge for edge analytics
Easy adoption and extensibility
Structured, easy to learn SQL-like query language for developing complex queries
Easily connects to YARN based external Spark clusters
Builds scalable analytic querying through Spark SQL
Supports RDBMS (MSSQL, Oracle, MySQL) data storage for low to medium-scale enterprise deployments
Supports HBase and Cassandra as NoSQL storage for big data enterprise deployments
Industry/domain-specific toolboxes to extend product for business use cases, such as fraud detection, GIS data monitoring, activity monitoring
Communicate
Customizable dashboards that give users an at-a-glance view as well as details
Real-time alerts (email, sms, push notification, physical sensor alarms, etc.) for instant condition reporting
Expose event tables as an API via WSO2 API Manager and WSO2 Data Services Server