WSO2 Partners are carefully selected and trained to provide customers with comprehensive solutions based the award-winning WSO2 platform. Each partner brings together SOA and Cloud competency with domain, industry, and regional expertise to provide exceptional value.
System Integration Partners
Strategic partners

Cognizant (CTSH) is a leading provider of information technology, consulting, and business process outsourcing services, dedicated to helping the world's leading companies build stronger businesses. Headquartered in Teaneck, New Jersey (U.S.), Cognizant combines a passion for client satisfaction, technology innovation, deep industry and business process expertise, and a global, collaborative workforce that embodies the future of work. With over 50 delivery centers worldwide and approximately 140,500 employees as of March 31, 2012, Cognizant is a member of the NASDAQ-100, the S&P 500, the Forbes Global 2000, and the Fortune 500 and is ranked among the top performing and fastest growing companies in the world. Visit us online at
www.cognizant.com
or follow us on Twitter: Cognizant.
Interested in becoming a WSO2 Partner?Contact us for program details
Community Partners
Technology Partners

WSO2 and Eucalyptus collaborate to ensure WSO2 Stratos runs seamlessly upon Eucalyptus's cloud computing platform.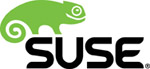 SUSE® a pioneer in open source software, provides reliable, interoperable Linux and cloud infrastructure solutions that give enterprises greater control and flexibility. More than 20 years of engineering excellence, exceptional service and an unrivaled partner ecosystem power the products and support that help our customers manage complexity, reduce cost, and confidently deliver mission-critical services. The lasting relationships we build allow us to adapt and deliver the smarter innovation they need to succeed—today and tomorrow.