WSO2 Enterprise Service Bus
WSO2 Enterprise Service Bus is a lightweight, high performance, and comprehensive ESB. 100% open source, the WSO2 ESB effectively addresses integration standards and supports all integration patterns, enabling interoperability among various heterogeneous systems and business applications.
With over a 100+ ready-made, easy to use connectors (freely available at our Connectors Store) the WSO2 ESB provides greater flexibility and agility to meet growing enterprise demands. The cloud-enabled, multi-tenant WSO2 ESB is also available on the cloud as a service (Private PaaS).
WSO2 Enterprise Service Bus
Capabilities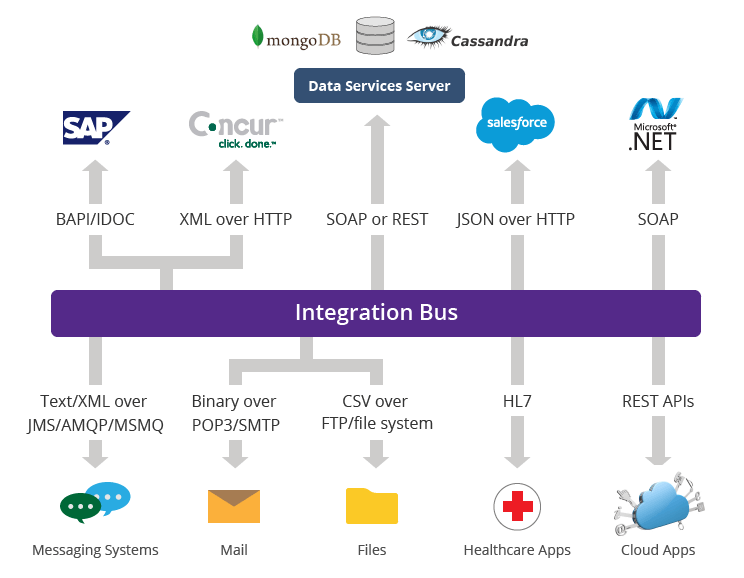 WSO2 ESB can be deployed at the heart of an SOA architecture or on the edge to mediate, enrich, transform messages across a variety of systems, including legacy applications, SaaS applications, as well as services and APIs.
Now in its fifth generation, WSO2 ESB has been deployed in production at hundreds of customers and is used in a wide variety of use cases: as a service gateway, mediation engine across SAP, Salesforce, Microsoft .NET services, and as a healthcare hub or in IoT scenarios, thanks to its support for transports such Apache Kafka and MQTT.
WSO2 ESB comes with a large set of building blocks, called mediators, which are used to construct mediation flows. Mediators cover data manipulation, data enrichment, connections to external systems, invoking external services and APIs, business events generation, and database integration among others. Additionally, WSO2 ESB supports the entire set of enterprise integration patterns. Mediation flows can be reused as-is or transformed into templates for further reuse across integration applications.
WSO2's ESB is one building block from the WSO2 integration platform, and can be associated with the WSO2 Data Services Server, which creates a clean data access layer on top of any source of data, as well as WSO2's Message Broker for guaranteed delivery scenarios and asynchronous, event-based, integration.
WSO2 ESB is configured and not programmed, reducing the developer's learning curve. WSO2's Developer Studio graphical tool can be used to design and debug ESB mediation flows.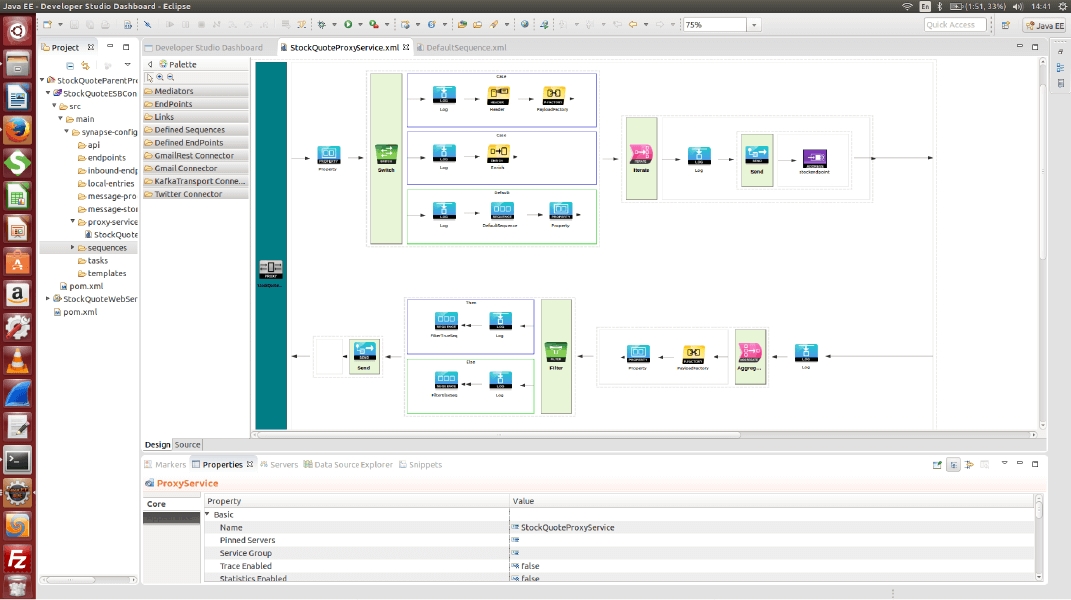 ESB configurations can be packaged as deployable artifacts and deployed and managed via your favorite tools such as Jenkins, Maven, ANT or Subversion.
Performance
Designed for high throughput and low latency, the WSO2 Enterprise Service Bus handles thousands of transactions per second (TPS) and clocks in a few ms latency. We recently conducted a comparison across multiple open sources ESB, which you can access here.
We are constantly improving the performance of WSO2 ESB to allow you to run more transactions with less hardware. As depicted in the graphs below, ESB 4.9 brings up to 40% more performance over version 4.8.
At the same time, we have reduced transaction latency.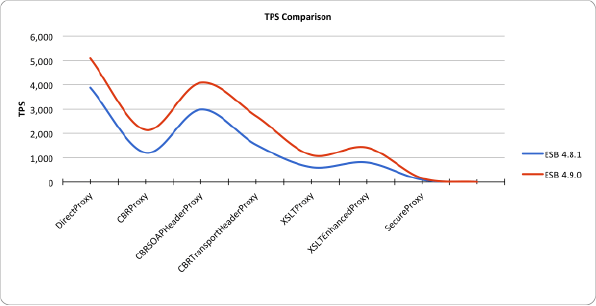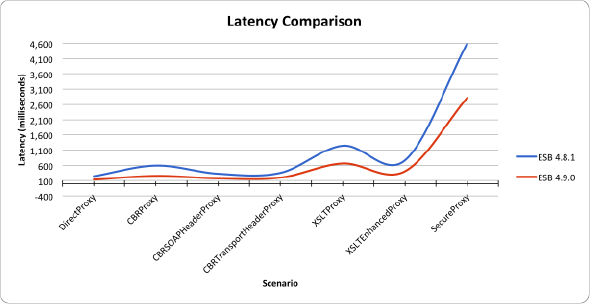 Features
Connect Anything to Anything
Adapters to cloud services: 100+ connectors across various categories such as payments, CRM, ERP, social networks or legacy systems.
Transports: HTTP, HTTPS, POP, IMAP, SMTP, JMS, AMQP, RabbitMQ, FIX, TCP, UDP, FTPS, SFTP, MLLP and SMS, MQTT, Apache Kafka
Formats & protocols: JSON, XML, SOAP 1.1, SOAP 1.2, WS-*, HTML, EDI, HL7, OAGIS, Hessian, Text, JPEG, MP4, all binary formats and CORBA/IIOP
Adapters to COTS systems: SAP BAPI & IDoc, IBM WebSphere MQ, Oracle AQ and MSMQ
Route, Mediate and Transform
Routing: header based, content based, rule-based and priority-based routing
Mediation: support for all Enterprise Integration Patterns or EIPs (including scatter/gather, message filters, recipient list, dead-letter channels, guaranteed delivery and message enrichment), database integration, event publishing, logging & auditing, validation
Transformation: XSLT 1.0/2.0, XPath, XQuery and Smooks
Acts as Message, Service, API, and Security Gateway
Expose existing applications & services over different protocols and message formats

Enable virtualization of services for loose coupling and SOA governance
Create service façades for legacy/non-standard services
Expose services & applications via RESTful APIs

Enforce and manage security centrally, including authentication, authorization, and entitlement

WS-Security, LDAP, Kerberos, OpenID, SAML, XACML
SSL tunneling and SSL profiles support for inbound and outbound scenarios
CRL/OCSP Certificate revocation verification
Policy enforcement and governance via WSO2 Governance Registry

Enable logging, audit and SLA monitoring, KPI monitoring
Ensure load balancing for scalability and failover for high availability of business endpoints
Get High Performance, High Availability, Scalability & Stability
Supports 1000s of concurrent non-blocking HTTP(S) connections per server
Pure streaming and on-demand processing of messages
Sub-millisecond latency for high-throughput scenarios
Supports highly available deployment
Enables horizontal scaling via clustering with stateless server architecture
Ensures long-term execution stability with low resource utilization
Ensure Lightweight, Developer-Friendly, and Easy Deployment
Get declarative development with configuration instead of code
Enable easy configuration of fault tolerant mediations with support for error handling
Ensure server customization via feature provisioning of any WSO2 middleware capability
Extend configuration language with custom DSLs via templates
Embed scripting language code in Javascript, JRuby, Groovy, and more, as custom mediators
Develop and deploy via Integration with SVN, Maven, Ant, and other standard tools
Integrate with WSO2 Developer Studio, Eclipse-based IDE for all WSO2 products
Manage & Monitor
Ensure comprehensive management & monitoring Web console with enterprise-level security
Enable built-in collection and monitoring of standard access and performance statistics
Manage and monitor key metrics with JMX MBeans
Integrate with WSO2 Data Analytics Server for operational audit and KPI monitoring and management
Get flexible logging support with integration to enterprise logging systems
Ensure centralized configuration management across different environments with lifecycles and versioning via integration with WSO2 Governance Registry
Upcoming Events
10 | August
2016
Wednesday
Webinar
WSO2 Product Release Webinar: WSO2 Enterprise Service Bus 5.0
Register Now >>
15 | September
2016
Thursday