WSO2 Enterprise Service Bus
We've taken a fresh look at old-style, centralized ESB architectures, and designed our unique WSO2 Enterprise Service Bus from the ground up as the highest performance, lowest footprint, and most interoperable SOA and integration middleware today. Relying on our innovative Carbon technology, the ESB delivers a smooth start-to-finish project experience that you cannot find anywhere else.
The feature rich and standards compliant WSO2 ESB delivers high performance within a lean footprint. For example, a deployed WSO2 ESB often fits within a 160 MB memory space. Don't just take our word on performance, read how eBay uses the 100% Open Source WSO2 Enterprise Service Bus to process over 1 billion transactions per day.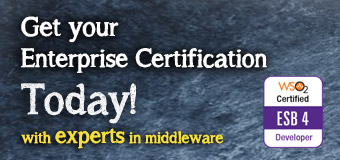 White Papers

Upcoming Events

Features
Connecting Anything to Anything

Transports: HTTP, HTTPS, POP, IMAP, SMTP, JMS, AMQP, FIX, TCP, UDP, FTPS, SFTP, CIFS, MLLP, SMS
Formats & protocols: JSON, XML, SOAP 1.1, SOAP 1.2, WS-*, HTML, EDI, HL7, OAGIS, Hessian, Text, JPEG, MP4, All binary formats, CORBA/IIOP
Adapters to COTS systems: SAP BAPI & IDoc, PeopleSoft, MS Navision, IBM WebSphere MQ, Oracle AQ, MSMQ
Adapters to cloud services: Salesforce, Paypal, LinkedIn, Twitter, JIRA

Routing, Mediation & Transformation

Routing: Header based, content based, rule-based and priority-based routing
Mediation: EIPs (including scatter/gather, message filters, recipient list, dead-letter channels, guaranteed delivery and message enrichment), database integration, event publishing, logging & auditing, validation
Transformation: XSLT 1.0/2.0, XPath, XQuery, Smooks

Message, Service, API & Security Gateway

Expose existing applications & services over different protocols & message formats
Virtualize services for loose coupling & SOA governance
Load balancing for scalability and fail-over for high availability of business endpoints
Create service facades for legacy / non-standard services
Enforce and manage security centrally, including authentication, authorization & entitlement
Policy enforcement and governance via WSO2 Governance Registry
Expose services & applications via RESTful APIs with key management
Logging, audit and SLA monitoring, KPI monitoring
WS-Security, LDAP, Kerberos, OpenID, SAML, XACML

High Performance, High Availability, Scalability & Stability

Supports 1000s of concurrent non-blocking HTTP(S) connections per server
Pure streaming and on-demand processing of messages
Sub-millisecond latency for high-throughput scenarios
Supports highly available deployment
Horizontal scaling via clustering with stateless server architecture
Long term execution stability with low resource utilization

Lightweight, Developer Friendly and Easy to Deploy

Declarative development with configuration instead of code
Easy configuration of fault tolerant mediations with support for error handling
Server customization via feature provisioning of any WSO2 middleware capability
Choice of deployment to on-premise servers, private cloud or public cloud (WSO2 Enterprise Service Bus-as-a-Service) without configuration changes
Extend configuration language with custom DSLs via templates
Embed scripting language code in Javascript, JRuby, Groovy and more as custom mediators
Integrated with SVN, Maven, Ant and other standard tools for development & deployment
Integrated to WSO2 Developer Studio, Eclipse-based IDE for all WSO2 products

Manage & Monitor

Comprehensive management & monitoring Web console with enterprise-level security
Built-in collection and monitoring of standard access and performance statistics
JMX MBeans for key metrics monitoring and management
Integrates with WSO2 Business Activity Monitor for operational audit and KPI monitoring and management
Flexible logging support with integration to enterprise logging systems
Centralized configuration management across different environments with lifecycles and versioning via integration to WSO2 Governance Registry
Getting Started
Get Involved