[WSO2Con USA 2017] Geospatial Big Data – Location Intelligence in Digital Transformation
Location plays a huge role in big data analytics which in turn powers new and existing digital businesses. From Uber-like participatory businesses to government-led fleet and transport management, location is a differentiator that is ubiquitous and a core part of digital transformation.
This session looks at how location data can be leveraged for digital transformation - be it for a new disruptive digital business or for an existing business looking to leverage existing data for newer business opportunities. For instance, Internet of Things and mobile devices usually have a location parameter associated with the device which in turn can be used by the analytics engine to figure out the most optimal route. This data has to be overlaid and integrated with external spatial systems and shared with stakeholders via spatial APIs to encourage participatory business models. Even security can have a spatial aspect to it. We will look at some interesting theories, examples and business + technical ideas. This is the importance of WHERE, NOW!
Presenter
Mifan Careem,
Director – Solutions Architecture, WSO2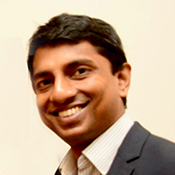 Mifan has extensive experience in SOA and industry specific solution architectures and specializes in spatial architectures and GIS, eGovernment cloud, emergency management, and big data analytics. In his role, he works closely with customers liaising with WSO2 Engineering and Sales teams to analyze and define domain specific solution architectures in client domains. He is also a lead architect for many global projects, including the national initiative to build a cloud-based SOA platform for local government bodies in Sri Lanka.