UPDATES
Keep your WSO2 product updated and secure
Updates are Simple and Better

Getting WSO2 updates is quite easy, with one easy command your deployment environment will be updated with most recent bug fixes and software improvement.
Learn More >
Security is Our top Priority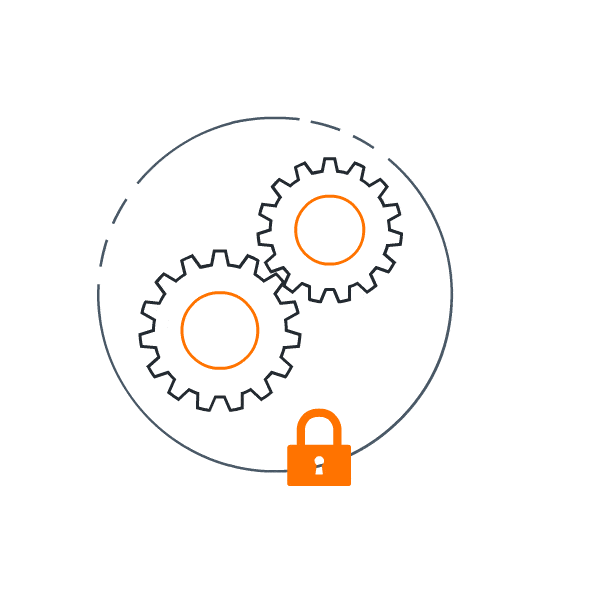 Through WSO2 updates we deliver the best defenses against security threats which is a good offense, and we want to help you take the offensive by having the latest WSO2 updates.
Learn More >
Easily accessible Update information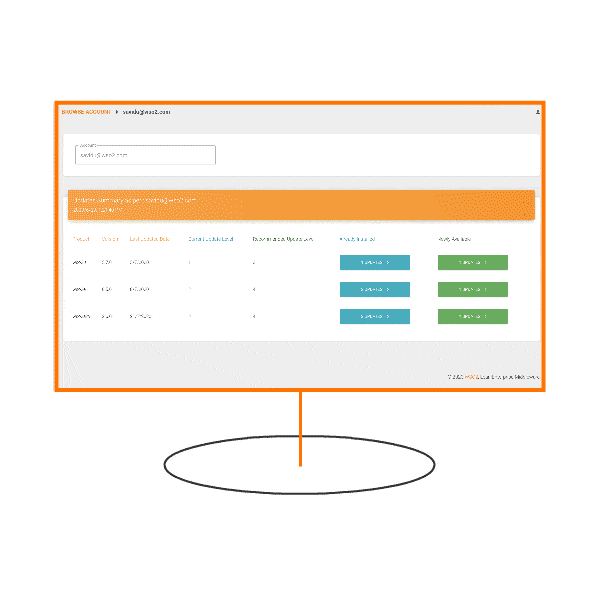 WSO2 subscribed customers are able to view the update information through Updates Information Portal at any given time.
Learn More >
WSO2 Updates
WSO2 Updates just got more Simpler and Better!!!
Continuous Improvements
We constantly improve our products and push these improvements as updates
Fast bug fixes
We provide swift fixes through hotfixes to critical bugs reported by subscribed customers
Single command update
Applying an update or a hotfix is simple, it only takes one command
Trial subscription for 6 months
Anyone can get updates and value additions free for 6 months within a trial subscription
Multiple platform support
WSO2 updates can be applied on deployments in multiple platforms. To find out more on supported platforms click here
Security Updates
We regularly provide you the latest security updates, to keep your production systems secured.
Continuous Security fixes
We constantly monitor, improve security issues, and potential security threats to provide the safe experience for you
Special notifications on critical security threats
We readily notify you on security issues and their fixes
You will be the first to know
When a security threat is identified, we provide security fixes to you in first hand
Updates Portal
Personalized Update Information for you !!!
Updates Portal is the one stop site where subscribers can find all about their subscribed products and update information
Subscribed products
You are able to view Information on subscribed products and their update levels.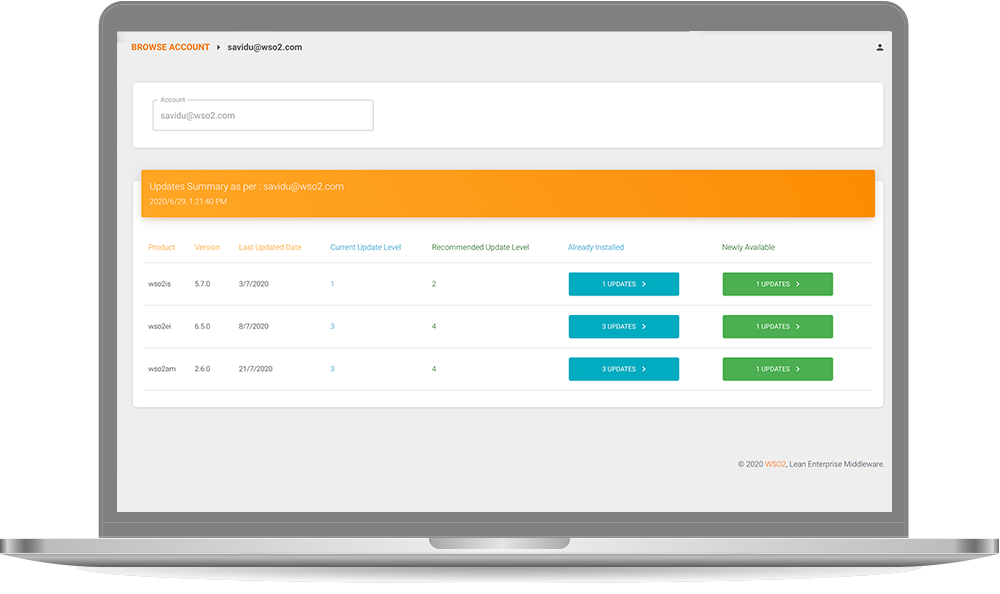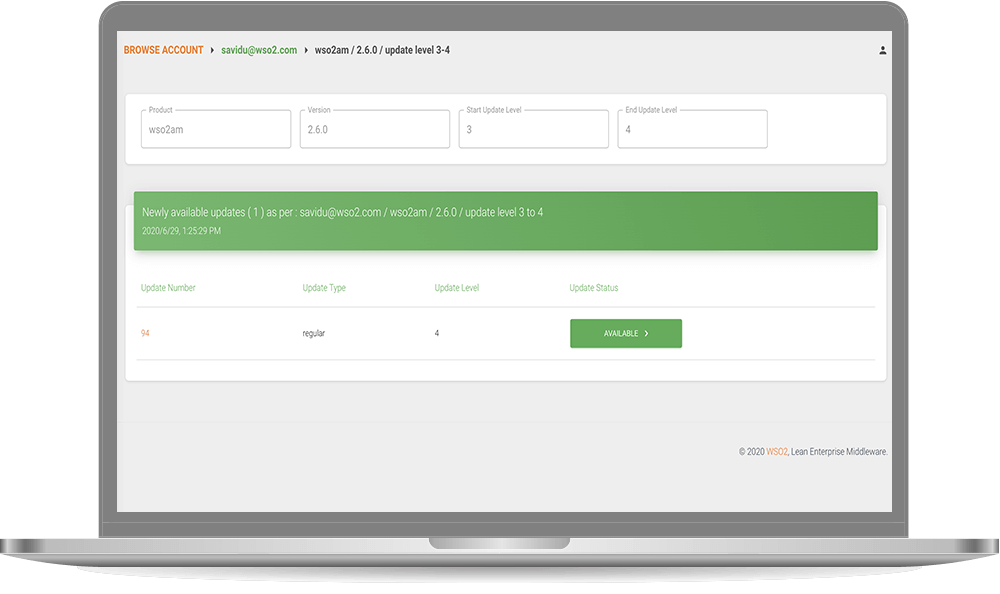 Available updates
The Update Portal displays available updates, recommended update levels for subscribed products.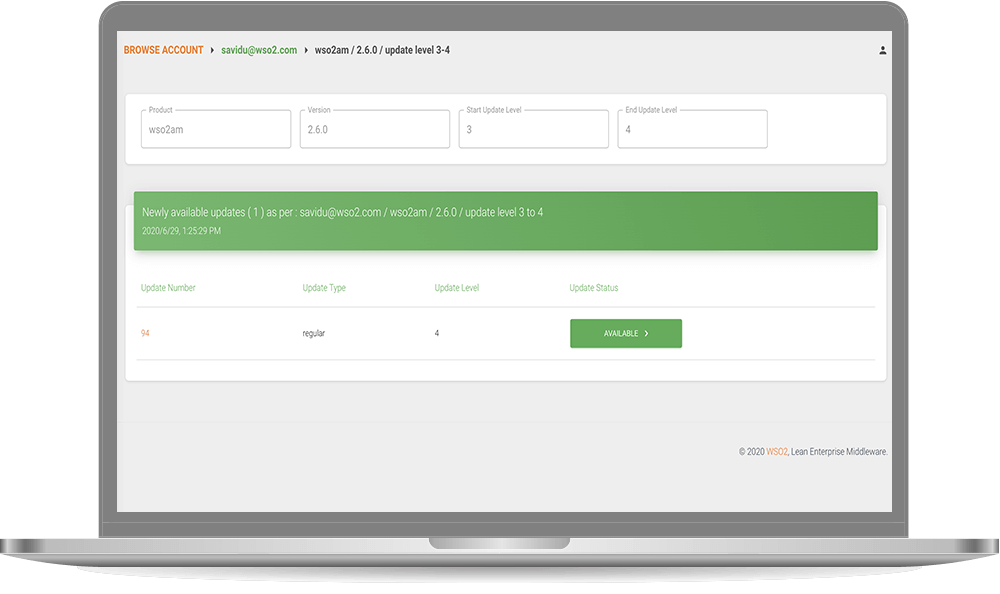 Get insight on an Update
Indicates clear descriptions, instructions and change-log information of a particular update.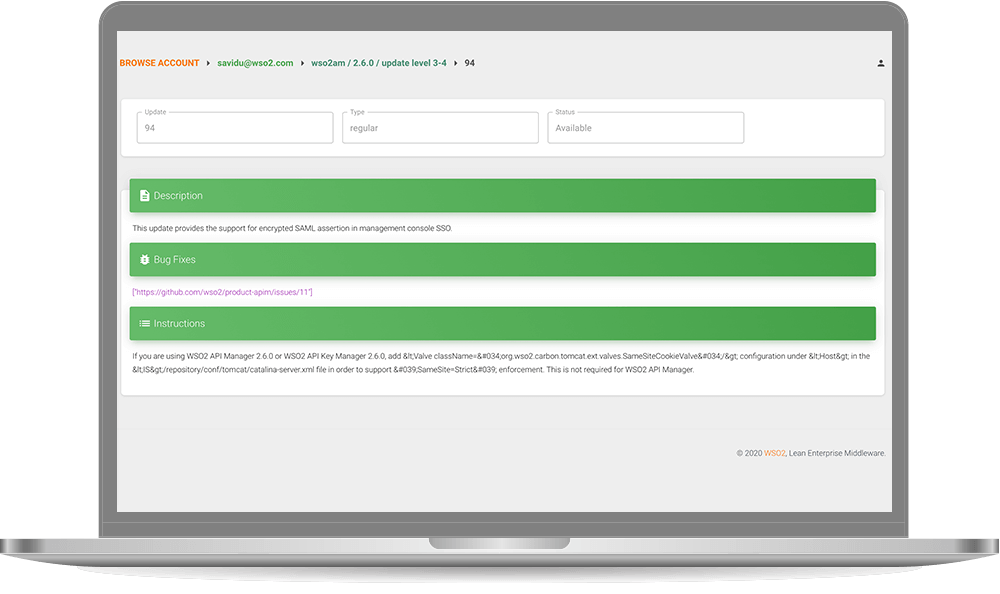 WSO2 Update service is subject to WSO2 Terms of Use and updates themselves are licensed only for Subscribers under the WSO2 Update EULA. If your subscription or trial ends, not only will you lose access to further updates, but you must remove the ones you received under your subscription or trial.