[WSO2Con Asia 2016] Catch Them in the Act: Fraud Detection with the WSO2 Analytics Platform
Archived Content
This article is provided for historical perspective only, and may not reflect current conditions. Please refer to relevant product page for more up-to-date product information and resources.
Presenter
Seshika Fernando,
Technical Lead, WSO2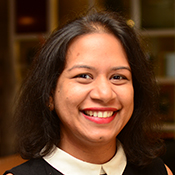 Seshika is involved in the application of WSO2 products in financial markets. She works in the Research team at WSO2, and is currently focused on creating anomaly detection solutions using the WSO2 Analytics Platform. Seshika started her career at Millennium Information Technologies and later joined Commercial Bank of Ceylon on completion of her postgraduate studies. She has spoken on similar topics at many industry conferences including ApacheBigDataCon, In Memory Computing Summit and BigDataTechCon among others.