[WSO2Con EU 2017] Building Smart, Connected Products with WSO2 IoT Platform
Building Smart, Connected Products with WSO2 IoT Platform
Download Slides
Traditionally industries are defined by what they produce. For example bakery industry is producing food, while automobile industry is producing vehicles and machinery that are being used in bakery industry. Home appliances are storing these food until being consumed. These products come with their own control interface for end user. This vertical focus is evident in many other industries.
But this approach is being challenged from two aspects:
Integration hubs providing interconnectivity between different product verticals thus creating systems that offer higher value and better end user experience
More and more industries creating smart, connected products that can be integrated with different other systems or products
WSO2 IoT Platform is one of the most adaptive Apache licensed open source IoT platforms available today.
This talk discusses best of breed technologies WSO2 IoT Platform offers for device manufacturers to develop connected products as well as rich integration and smart analytics capabilities for system integrators to adopt devices into systems they build.
Presenter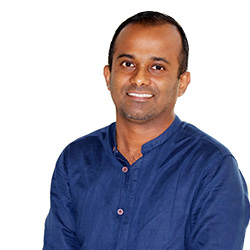 Sumedha Rubasinghe
Director - IoT Architecture, WSO2
Sumedha is part of the team that spearheads architecture efforts on the conceptualization and enhancement of WSO2's IoT offerings. Previously, he led the development of WSO2's API Management Platform and Data Services.