[WSO2Con USA 2017] WSO2 Update Manager (WUM): Continuous Access to Product Updates
Archived Content
This article is provided for historical perspective only, and may not reflect current conditions. Please refer to relevant product page for more up-to-date product information and resources.
At WSO2 we continuously improve our products with bug fixes, security fixes, and various other improvements. Every major release of our products is followed by a series of periodic dot releases that include all these recent updates. We want everyone evaluating, developing on or preparing WSO2 products for product deployments to have the best experience by not tripping over bugs, especially those that have already been fixed! WSO2 Update Manager (WUM) makes this process much easier.
In this talk Sameera gives you a first-hand look at WUM. It will cover the basics of WUM and answer the following questions:
What is WUM?
What are the benefits of using WUM?
How do you install WUM?
How do you initialize WUM with your WSO2 credentials?
How do you search and add products via WUM?
How do you update WSO2 products and maintain a product repo?
How do you push updated product distributions to your deployments?
Presenter
Sameera Jayasoma,
Associate Director/Architect WSO2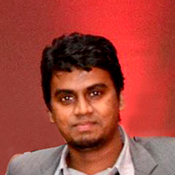 Sameera, with over 8 years of industry experience, is a member of WSO2's architecture team that drives development and enhancement of overall WSO2 platform capabilities. He is also one of the lead architects behind the WSO2 Carbon and WSO2 Update Manager projects. He has provided technology consulting on various customer engagements including architectural guidance to help customers successfully design and implement their solutions with the WSO2 platform. He has contributed to a number of Apache projects, including Apache Axis2 and Axiom.