[WSO2 Summit New York 2017] Architecting a Digital Enterprise
Digital transformation requires alignment between business and IT for it to be effective and workable. However, in most organizations, technical and business requirements and their respective stakeholders are often imperfectly aligned. Business and technical leads working on a digital transformation project realize the challenges of creating a digital workspace comprised of proper processes, systems, and an efficient and productive workforce. In this session, Asanka will explore the business and technical architectures of the digital enterprise; he will discuss the reference architecture for each of these and explain how they can be defined to build your digital platform.
Slides
Presenter
Mifan Careem,
Senior Director - Solutions Architecture, WSO2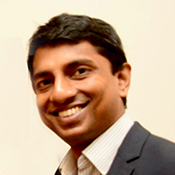 Mifan has extensive experience in SOA and industry specific solution architectures and specializes in spatial architectures and GIS, eGovernment cloud, emergency management, and big data analytics. In his role, he works closely with customers liaising with WSO2 Engineering and Sales teams to analyze and define domain specific solution architectures in client domains. He is also a lead architect for many global projects, including the national initiative to build a cloud-based SOA platform for local government bodies in Sri Lanka.