[WSO2 Integration Summit San Francisco 2019] The API-driven World
APIs and integration is suddenly the hottest sector in enterprise software!
Shevan will discuss how APIs are touching every facet of our society and the underlying trends that are going to generate nearly 1 billion APIs in the coming years. All digital transformation is now API-driven and integration technologies underpin their evolution.
As the world becomes digitally-native, how will the role of enterprise architecture shift? How do we leverage cloud native and agility initiatives?
In this session, Shevan will discuss
The impact APIs are having on digital transformation
WSO2's roadmap for API-driven initiatives
A reference architecture for agility
A new agility methodology for integration
How microservices will pervade integration products
Our commitment and role of Ballerina (cloud native programming language)
New channel and reseller programs for partners
Video
Slides
Presenter
Shevan Goonetilleke
President and Chief Operating Officer, WSO2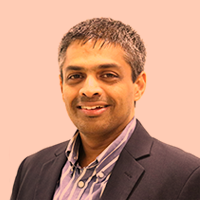 Shevan is the President and Chief Operating Officer at WSO2 and is responsible for global operational execution of the company. Shevan joined WSO2 in 2013 as Director of Engineering where he managed engineering efforts for several integration products including the WSO2 ESB, Identity Server, Message Broker and Business Process Server. He later moved into a operations role as Vice President of Global Operations where he was responsible for optimizing operational execution and driving the company towards profitability. Shevan has over 2 decades of experience in both Software and Telecommunication companies. Prior to joining WSO2, he worked for Deutsche Telekom UK, where he managed delivery and deployment of digital products across the T-Mobile footprint in Europe. Before Deutsche Telekom, he worked for Virtusa Corporation, where he rose through various technical and management positions in Sri Lanka, USA and UK and spent several years leading large technology programs for global clients with responsibility for revenue, growth, and delivery. He holds a Bachelor's in Computing and Information Systems from Manchester Metropolitan University, UK, and a Master's in Business Administration from the University of Sheffield, UK.