Securing Access to SaaS Apps with WSO2 Identity Server
By

Dinusha Chandrathilake

|

25 Jul, 2017
Securing Access to SaaS Apps with WSO2 Identity Server
Tuesday, July 25, 2017
09:00 AM - 10:00 AM (PDT) Software as a Service (SaaS) is rapidly emerging as the dominant delivery model for meeting the needs of enterprise IT services. According to Gartner the worldwide public cloud services market will grow by 18% in 2017 and cloud application services (SaaS) is expected to grow by 20.1% and reach $46.3 billion.
This growth raises enterprise security concerns and the importance for mobility adds on to the challenges you will face when adopting SaaS application. You need to implement a complete identity management solution that ensures secure access to your SaaS apps and safeguards sensitive data that reside in them.
Join Ishara and Farasath in this webinar as they explore how you can leverage WSO2 Identity Server capabilities to address the security needs when adopting a SaaS solution and preserve your industry security standards. They will discuss
What security concerns you need to address in SaaS integration
Common solution patterns for securing SaaS apps
How key features of WSO2 Identity Server can help you enable SaaS integration
Presenters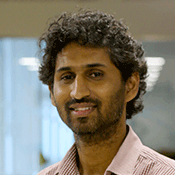 Ishara is an Associate Technical Lead at WSO2. Holder of a Bsc Engineering degree from the Department of Computer Science and Engineering, University of Moratuwa (Sri Lanka), Ishara implemented a framework to optimize Java butecode in runtime for both multi core and many core environments as his final year research project. Ishara successfully completed the Google Summer of Code program in 2011 with Apache Software Foundation and has implemented xmlID support to Xerces2 Java Parser.
Farasath is a Software Engineer at WSO2. He joined WSO2 as an intern where he worked as a member of the Identity Server team. Farasath took part in Google Summer of Code 2015 and completed implementing User Managed Access (UMA) 1.0 for WSO2 Identity Server. Farasath holds a bachelor's degree in Computer Science and Engineering from the Department of Computer Science and Engineering, University of Moratuwa.