Crafting an API Strategy with an API Marketplace
Crafting an API Strategy with an API Marketplace Enterprises are increasingly looking at how they can extend their business through external APIs in their digital transformation journey. However, to truly reap the benefits of an API program, organizations need to move beyond basic API management to creating API marketplaces that promote the consumption and use of APIs to deliver new apps and services.
This webinar will focus on the key components required to create an API marketplace. It will explain the business benefits of this concept, the complete architecture, and how you can get started. Areas discussed will include
Benefits and best practices in API management
What is an API marketplace?
Business benefits of an API marketplace
Components of building an API marketplace
Real world use cases of implementing an API marketplace
Promoting consumption and reuse
What's next after an API marketplace?
Presenter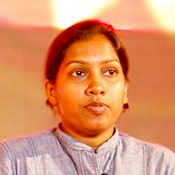 In her role at WSO2, Shiro works closely with customers from various business domains and provides solutions based consultancy as to how the WSO2 stack could be used effectively to achieve an organization's business objectives. Prior to this her focus was with the cloud technical group at WSO2 where she was a member of the WSO2 Private PaaS and AppFactory teams. She has 15 years of experience in the IT industry with previous experience in building telecom billing systems and enterprise search systems.