Most enterprises deal with a variety of common IT problems to which they would find quick fixes. One such example is the need to maintain five different usernames and passwords to login to five different systems. Another typical example is the closing of a sales deal - the sales department would conclude the deal and ensure the goods are delivered; this would be updated on the sales records, however, when the finance department reconciles invoices against sales at the end of the quarter, there might be mismatches because the invoicing process was missed.
To address these issues, most enterprises will use a combination of basic IT and collaboration software to manage day-to-day requirements. And over time, these requirements will change, prompting a slight shift in the enterprise's IT landscape too. This may result in a situation where different teams within the organization will find the most efficient ways to carry out tasks and meet their IT requirements with the use of packaged software, possibly by building their own, or even subscribing to more SaaS-type offerings.
While this might temporarily fix specific problems, it will pose long-term challenges as such measures are often not pre-planned or do not follow a particular IT roadmap. The actual negative effects of individual teams working in silos would only be felt when the company starts to grow and the use of various systems increase as well. Eventually, the use of several systems that don't talk to each other will cause operational issues and even hurt motivation among employees.
The recurrent problems with these multiple systems working in silos include extensive manual effort, errors, blame, rework, frustration, complaints, and the need to manage multiple passwords. These in turn result in inefficiencies.
To address these challenges, the enterprise needs an easy-to-implement, cost-effective solution. There's no guarantee though that there would be a plug and play type of system or one that could be customized to meet the enterprise's exact requirements. The enterprise would seek a unique, bespoke solution that would either mean they change the way they work with existing software or rethink the software itself.
The most viable option would be to integrate the systems (which, of course, have proven to be efficient to meet a specific requirement) used by different functions and then explore some sort of automation that will provide relief to employees.
WSO2's highly-acclaimed open-source middleware platform has the capabilities that enable the seamless integration of IT applications, thus streamlining day-to-day business activities of a given enterprise. This in turn will boost efficiency and integration across business functions and teams and improve overall productivity as well.
For instance, WSO2 Identity Server (WSO2 IS) can define an identification for a user in a particular organization, enabling him/her to log into multiple systems on-cloud or on-premise with a single username/password.
The enterprise too will benefit as WSO2 IS offers provisioning capabilities that allow your IT to register and auto-provision new employees across multiple systems as well as easily de-provision them when they leave the organization.
WSO2 Enterprise Service Bus can meet all your integration challenges with its capability to connect various systems that speak different languages. It also comes with a defined set of connectors to further support integration of systems, be it on the cloud or on-premise.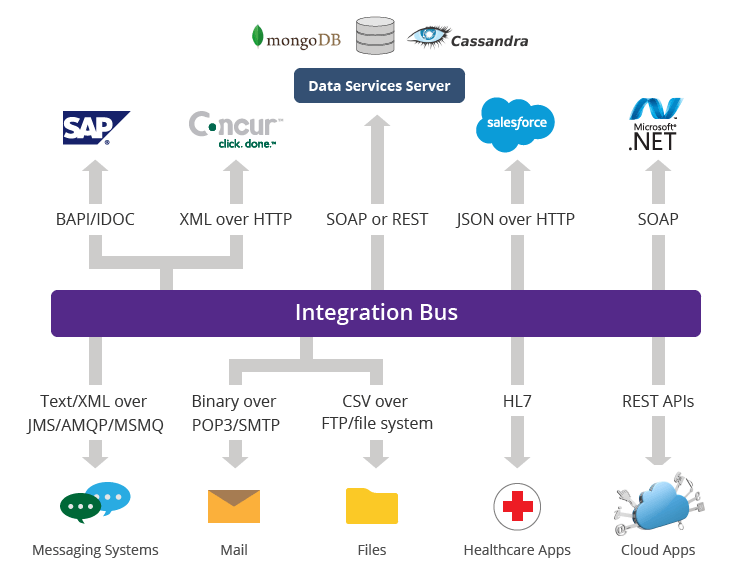 Once all of your systems have been integrated, you can leverage WSO2 Data Analytics Server (WSO2 DAS) to pull reports from different functions within your organization and automatically collate data that will translate to valuable information required to make business decisions. WSO2 DAS has in-built dashboard capabilities that will automatically create and publish dashboards on a real-time basis.
Moreover, all WSO2's products are 100% open source, which gives enterprises the freedom of choice and empowers the business with limitless possibilities to expand.
Learn more about WSO2's comprehensive and open platform for your connected enterprise.
For more details on how to establish friendly enterprise IT and get more love from your team, watch this talk by WSO2's VP Operations, Shevan Goonetilleke.