[WSO2 Integration Summit Johannesburg 2019] WSO2's Open Everything Strategy
By

WSO2 Team

|

11 Sep, 2019
The industry seems to be moving away from pure open source businesses. WSO2 is going the opposite direction, maintaining a strong commitment to open sourcing our products and open sourcing even more of our IP, building communities, making expertise available to our customers, and bringing transparency to our business culture and operations. This session explains why we believe our strategy of openness is fundamental to the success of WSO2 and our customers.
Video
Slides
Presenter
Devaka Randeniya
Vice President - Sales, WSO2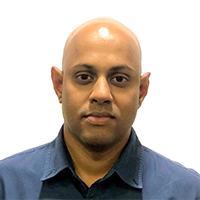 Devaka started his career as a Software Engineer at Virtusa, a Nasdaq quoted system integrator company before joining WSO2 as its very first sales hire in 2006. Since then Devaka has helped in growing WSO2 into a global sales organization that operates in 4 major territories with over 50 account managers and channel managers. As the head of global sales, Devaka is responsible for the acquisition of new markets, clients and expansion of the global partner network. Still in his first sales job, Devaka has a unique perspective of the journey of WSO2 that took it from an unknown brand that was started outside of the US, to becoming the worlds largest open source integration company.