Identity and Access Management in the Era of Digital Transformation
By

Dinusha Chandrathilake

|

29 Mar, 2017
Identity and Access Management in the Era of Digital Transformation
Wednesday, March 29, 2017
09:00 AM - 10:00 AM (PDT) Solutions for strong identity and access management (IAM), whether the user is a person or a device, is critical to the success of a digital business. And, because a variety of digital apps and services now span many ecosystems, federated identity management is that much more important for ensuring robust security without compromising usability and the customer's experience.
The more systems you integrate while using a single identity, the weaker security becomes, creating high demand for multi-factor authentication and authorization. This makes IAM a necessity rather than an option when transforming digitally.
In this session, Prabath Siriwardena, senior director of security architecture at WSO2, will explore the challenges of IAM that needs to be addressed when preparing your enterprise for digital transformation. He will also explain why these are important considerations.
Presenter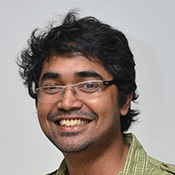 Prabath is the Director of Security Architecture at WSO2. Prabath has over 11 years of industry experience that currently involves providing security architecture solutions to many of WSO2's key customers. He has spoken at several global user conferences including ApacheCon, OSCON, QCon, WSO2Con, and European Identity Conference, among others. He has also authored four books related to Apache Maven, enterprise integration, and API security. Prabath is an Apache Axis2 PMC member as well as a member of OASIS Identity Metasystem Interoperability (IMI) TC,OASIS eXtensible Access Control Markup Language (XACML) TC, OASIS Security Services (SAML) TC, OASIS Identity in the Cloud TC and OASIS Cloud Authorization (CloudAuthZ) TC.