CIAM: Conquering the Phygital Battleground with WSO2 Identity Server
By

WSO2 Team

|

19 Jul, 2018
CIAM: Conquering the Phygital Battleground with WSO2 Identity Server
Watch Videos and View Slides
In the age of the customer, businesses battle to retain the trust and loyalty of existing customers as well as to win new customers in the phygital (physical and digital) space. Customer Identity and Access Management (CIAM) is an essential weapon, which you must wield to win this battle. But the difficulty is that the conditions of the battleground are dynamic and the targets are moving fast.
If your CIAM solution is undesirably restrictive, it can detract from the customer experience. On the other hand, if it's not restrictive enough it compromises your security. Finding out the right balance for your business can be challenging. Most organizations don't have the technical capacity to build a CIAM solution in-house that's dynamic, flexible, and scalable enough to compete in the market. On the other hand, complex multi-vendor solutions are hard to integrate, customize, and scale up to your business demands.
By adopting the right technology, following best practices and avoiding common pitfalls, you'll be able to create a strong CIAM solution.​ With WSO2 Identity Server, you ​have the ability to implement a lean, extensible, scalable, and developer-friendly solution that is able to meet the core requirements of CIAM.
In this webinar we will look at:
The business objectives that require a CIAM strategy for your organization
Key functional and non-functional requirements of CIAM
Technical best practices to follow and pitfalls to avoid when implementing a CIAM solution
Building an effective CIAM solution with WSO2 Identity Server
Presenter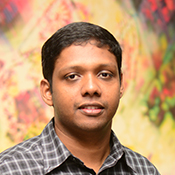 Johann is a solutions architect specialized in the identity and access management (IAM) team at WSO2. Previously he was the lead architect of WSO2 Identity Server. In addition to his years of product development experience, he has provided architectural consultancy on IAM, integration, and API management, for numerous WSO2 customers around the globe. He is a regular speaker at WSO2 conferences, workshops and recently at Whitehall Media's Identity Management Conference.