Integrating MS Office 365 with WSO2 Identity Server
By

WSO2 Team

|

26 Mar, 2019
Integrating MS Office 365 with WSO2 Identity Server
Watch Videos and View Slides
Microsoft Office 365 is a successful and continuously growing enterprise solution - and a pivotal one given it's widespread usage.
IT infrastructures of enterprises are so complex, migrating to the cloud might require a lot of time and effort. Customers have limited datastore options and often it is required to migrate user stores of the entire enterprise.
Office 365 requires users to be present in the Microsoft cloud, pushing enterprises to keep their user stores within the Microsoft cloud. Integration becomes more complex when the current system is not compatible with the tools supported by Microsoft.
This webinar will help you learn the benefits of using WSO2 Identity Server to manage all these obstacles and demonstrate the easy integration with MS office 365 along with
Support login with heterogeneous user stores (including your existing AD/LDAP/JDBC)
SSO and SLO with other enterprise and community applications
Simplified Installation along with seamless user provisioning
Provide Multi-factor authentication for your Office365 content
and many more
Presenter
Tharindu is a part of the WSO2 Identity Server team. He focuses on the IAM domain and was one of the initial members who worked on the Office 365 Integration with WSO2 Identity Server. Tharindu holds a bachelor's degree in Electronics and Telecommunication from the University of Moratuwa, Sri Lanka.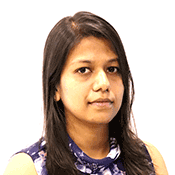 Pamoda is a part of the WSO2 Identity Server team. She is passionate about the aspects of Identity and Access Management. She has been working on integrating Office 365 with WSO2 Identity Server right from the beginning. Pamoda holds a bachelor of science degree from the University of Moratuwa, Sri Lanka specializing in computer science and engineering.