WSO2 Private PaaS
WSO2 Private PaaS delivers standard, on-premise, application, integration, data, identity, governance, and analytics Platform as a Service (PaaS) to your IT project teams. It is a complete, multi-tenant, self-service, metered, middleware cloud for complex, enterprise-ready projects.
Giving you all the power of cloud, WSO2 Private PaaS is built on top of Apache Stratos. It is the most complete, enterprise-grade solution, offering an open Platform as a Service, enriched with all the generic features that a PaaS would include. More significantly, it adds functionality to host pre-integrated, fully multi-tenant WSO2 Carbon middleware products as a composition of cartridges that deliver a wide range of cloud PaaS.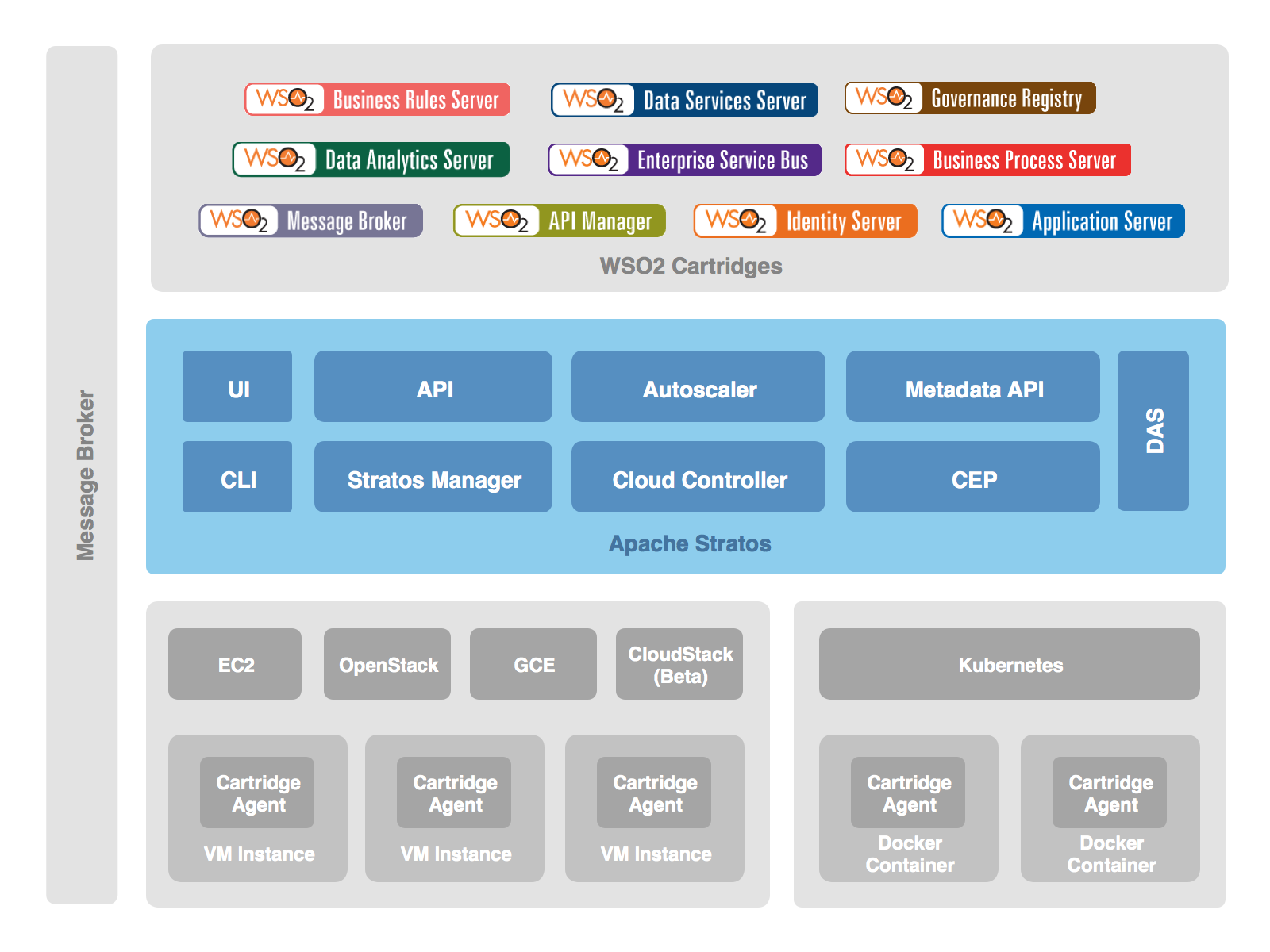 WSO2 Private PaaS provides means of running WSO2 products on cloud environments on Docker and Virtual Machines using cartridges. A cartridge is a Docker or a Virtual Machine image which includes the WSO2 product distribution, cartridge agent, cartridge agent plugins, configurator, WSO2 product template module and JDK.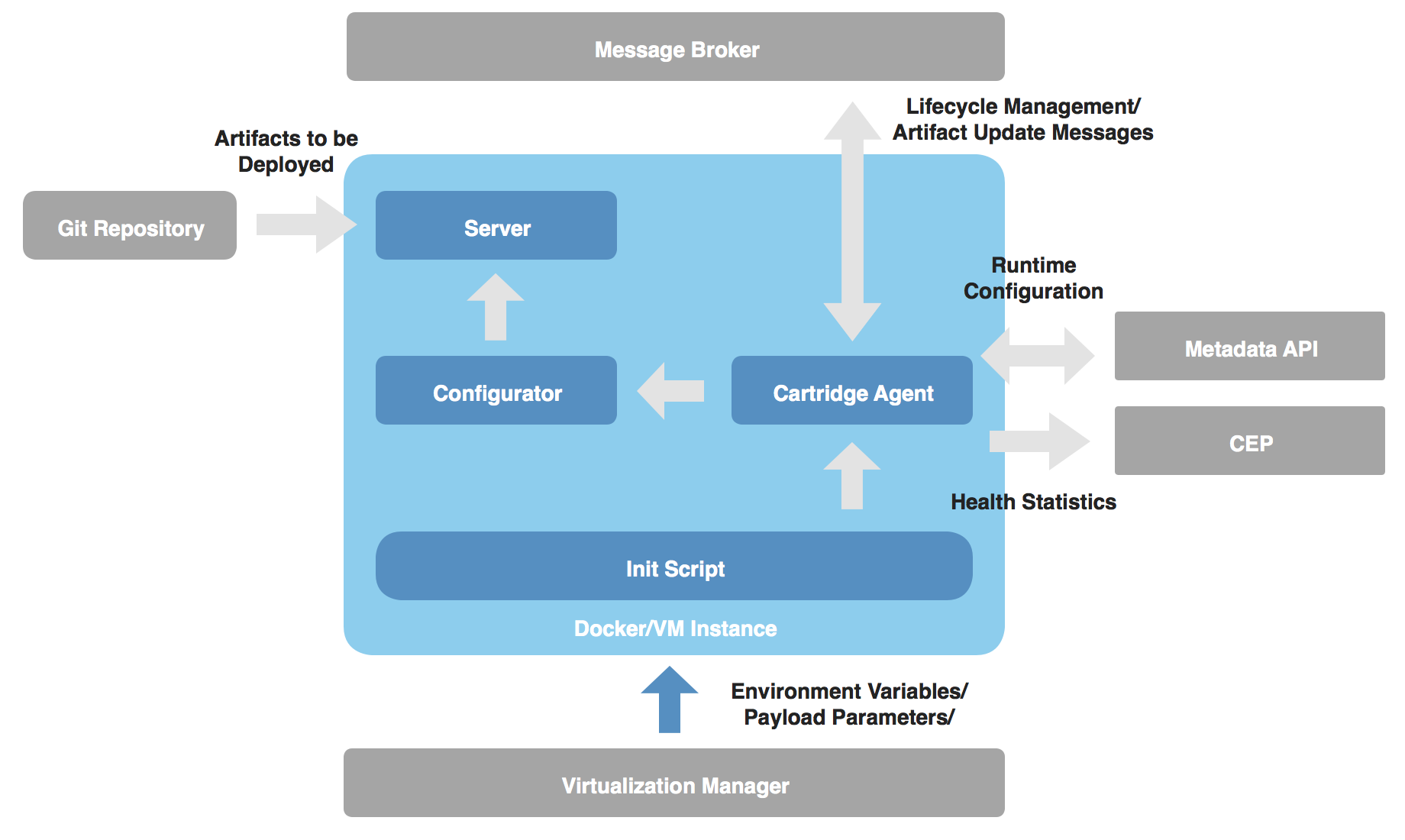 WSO2 ships cartridges separately, currently following cartridges are available for Private PaaS 4.1.1 in WSO2 Store:
WSO2 API Manager (AM) 1.9.1
WSO2 Application Server (AS) 5.3.0
WSO2 Business Process Server (BPS) 3.5.0
WSO2 Business Rules Server (BRS) 2.1.0
WSO2 Complex Event Processor (CEP) 4.0.0
WSO2 Data Analytics Server (DAS) 3.0.0
WSO2 Data Services Server (DSS) 3.2.2
WSO2 Enterprise Service Bus (ESB) 4.9.0
WSO2 Governance Registry (G-REG) 5.0.0
WSO2 Identity Server (IS) 5.0.0
WSO2 Message Broker (MB) 3.0.0
Features
Composite Application Model
Model and deploy applications in a PaaS environment as a composition of cartridges with dependency management features
Python-based and Java-based lightweight and extensible cartridge agent
Ability to plug any third-party run-times such as PHP, MySQL, Tomcat, Node.js, Wordpress, Java, jBoss and Ruby
Support for Puppet-based cartridge provisioning and application orchestration
Ability for DevOps to enable persistent volume support for cartridges to automatically attach a volume when a new cartridge instance is created
Docker support using Kubernetes & CoreOS
Auto-scaling and manual-scaling of Docker Containers
Enhanced Carbon cluster discovery features
Git based artifact distribution
External load balancer support for Kubernetes clusters
Supports in-container multi-tenancy
Private Docker registry
Kubernetes Command Line Interface (CLI) for advanced Kubernetes cluster management features
Deploy over your preferred IaaS
Supports Amazon Web Services (AWS) EC2
Supports OpenStack
Supports Google Compute Engine (GCE)
Run on Microsoft Azure, VMWare vCloud, Rackspace with Kubernetes
Ability to control IaaS resources per cloud, region, and zone to provide high availability and solve disaster recovery concerns
Mock IaaS to simulate basic features that a Private PaaS requires from an IaaS
Multi-cloud & cloud bursting
Ability to define autoscaling & deployment policies to span over multiple regions or IaaS platforms
Scale up to public IaaS, in an event of resource run out in on-premise IaaS
Pick the load balancer of your choice
Ability to integrate Nginx, Haproxy, LVS & AWS EC2 load balancers
Generate load balancer configuration automatically according to the topology
Configure load balancers per region/zone, cluster and application
Autoscale load balancers by deploying them on WSO2 Private PaaS as cartridges
Policy-based multifactor auto-scaling
Transparently increase service capacity when new resources are needed
Ability to define your own scale up/scale down logic
Define auto-scaling policies with load average, memory & requests in-fight
Ability to automatically spawn instances based on smart policies when making auto-scaling decisions: auto-scaling policies, deployment policies & application policies
Ability to gracefully shut down servers when scaling down
Supports scaling for non-HTTP transports
Easy SaaS app development
Ability to make use of the in-built tenancy model in your SaaS apps
Support for centralized logging, metering and monitoring
Integration ready
Exposes a RESTful admin API
A CLI to manage the Private PaaS
User friendly Web-based admin interface to manage your PaaS
New metering & monitoring dashboards created using WSO2 Data Analytics Server
Statistics APIs exposed in WSO2 Data Analytics Server