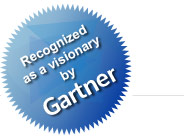 Evaluations considered products available for implementation on user-controlled infrastructures, such as traditional data center, private cloud, or hosted IaaS deployments
Mountain View, CA – August 5, 2014 – WSO2 today announced that it has been positioned by Gartner, Inc. in the "Visionaries" quadrant of the Magic Quadrant for On-Premises Application Integration Suites1, which was published on July 29, 2014. The new Gartner report looks at vendors with on-premises products that address a wide range of integration use cases.
"Today, digital business is driven by the interrelation of people, business and things," the Magic Quadrant for On-Premises Application Integration Suites report2 observes. The report3 goes on to explain, "The challenge is that there will be 30 billion devices in the IoT by 2020, according to Gartner research (see 'What the Board of Directors Needs to Know About Digital Business'). These devices will introduce new modes of interaction among users, adding to the infrastructure and integration requirements of enterprises." The report4 also notes, "Enterprises need application integration functionality that supports a variety of integration patterns using a spectrum of approaches, from systematic to adaptive."
"The world is changing rapidly to a place where people, applications and devices are all connected. This is creating new business models that harness the cloud, mobile, APIs, social media, and the Internet of Things. Behind all this, we need a model of integration that is simple, scalable and comprehensive," said WSO2 Co-founder and CTO Paul Fremantle. "We are excited to be positioned in the 'Visionaries' quadrant by Gartner. We view this as validation that we are delivering on our vision of a modular, integrated platform that helps propel enterprises into the connected world."
WSO2 Integrated Platform for On-Premises and the Cloud
WSO2 provides the only integrated middleware that enables enterprises to seamlessly migrate their Web applications and services between on-premises, cloud, and hybrid cloud environments as needed.
WSO2 Carbon is the industry's first fully componentized middleware platform for creating, running and managing composite applications and Web services within an SOA and cloud environment. Built on the OSGi specification, WSO2 Carbon lets developers easily deploy and customize any of more than a dozen WSO2 Carbon-based middleware products, and the 175-plus components on which they are comprised, providing greater flexibility and agility to meet changing enterprise demands.
The cloud-ready, fully multi-tenant WSO2 Carbon middleware products run directly on servers or as virtual machines, and they are available as part of WSO2 Private PaaS, the industry's most complete, open enterprise-grade platform as a service (PaaS). Therefore, for example, the WSO2 Enterprise Service Bus (ESB) software enabling one major online retailer to process more than 1 billion API transactions per day also is delivering ESB as a service in the cloud.
WSO2 offers a range of service and support options for WSO2 Carbon and WSO2 Stratos. These include evaluation support, special QuickStartSM consulting programs, development support, and production support. All WSO2 middleware products are fully open source solutions released under the Apache License 2.0; they do not carry any licensing fees.
About the Magic Quadrant
Gartner does not endorse any vendor, product or service depicted in its research publications, and does not advise technology users to select only those vendors with the highest ratings. Gartner research publications consist of the opinions of Gartner's research organization and should not be construed as statements of fact. Gartner disclaims all warranties, expressed or implied, with respect to this research, including any warranties of merchantability or fitness for a particular purpose.
About WSO2
WSO2 is the only company that provides a completely integrated enterprise application platform for enabling a business to build and connect APIs, applications, Web services, iPaaS, PaaS, software as a service and legacy connections without having to write code; using big data and mobile; and fostering reuse through a social enterprise store. Only with WSO2 can enterprises use a family of governed secure solutions built on the same code base to extend their ecosystems across the cloud and on mobile devices to employees, customers and partners in anyway they like. Hundreds of leading enterprise customers across every sector—health, financial, retail, logistics, manufacturing, travel, technology, telecom and more—in every region of the world rely on WSO2's award-winning, 100% open source platform for their mission-critical applications. To learn more, visit https://wso2.com or check out the WSO2 community on the WSO2 Blog, Twitter, LinkedIn, Facebook, and FriendFeed..
1Gartner, "Magic Quadrant for On-Premises Application Integration Suites," by Jess Thompson, Yefim V. Natis, Massimo Pezzini, Kimihiko Iijima, Fabrizio Biscotti, and Keith Guttridge, July 29, 2014.
2Gartner, "Magic Quadrant for On-Premises Application Integration Suites," July 29, 2014.
3Gartner, "Magic Quadrant for On-Premises Application Integration Suites," July 29, 2014.
4Gartner, "Magic Quadrant for On-Premises Application Integration Suites," July 29, 2014.
Trademarks and registered trademarks are the properties of their respective owners.