[WSO2Con USA 2014] Keynote - The Connected Company
Archived Content
This article is provided for historical perspective only, and may not reflect current conditions. Please refer to relevant product page for more up-to-date product information and resources.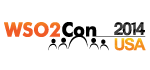 Presenter
Dave Gray,
Author, The Connected Company

Dave is the founder of the business design consultancy XPLANE. His primary focus is the complex problem of driving innovation and change in large organizations. Dave has authored two books on design, change and innovation. He also serves as a strategic adviser to a select group of clients. His current project is Boardthing, a collaboration platform for distributed teams. Dave delivers keynotes and hands-on workshops on topics related to innovation, culture and change.