[WSO2Con USA 2017] Managing Verifone's New Payment Device "Carbon" with WSO2's EMM
By

WSO2 Team

|

12 Mar, 2017
Verifone's new flagship payment device "Carbon" comes along with a whole service platform for Estate Owners, merchants, and app developers. A developer SDK and platform allows third-party developers to create apps that can interact with the payment flow, and merchants can purchase these apps via an app store. Merchants can manage their devices and users via the device or via a web platform. Estate owners get an overview of all devices in their "estate" and can manage the devices, their merchants, and apps that they can provide to the merchants.
The device consists of two parts - an Android tablet and a Unix-based payment terminal. Verifone decided to use WSO2's Enterprise Mobility Manager (now named WSO2 IoT Server) to manage the Android tablet for installing apps, getting information about the current state of the devices, locking or rebooting the devices, installing security policies, etc. Our own terminal management system interacts with EMM on an API-only basis to manage the Android tablets. And the plan is to use EMM for a large-scale deployment of thousands of devices in the field.
This talk introduces the features and use cases of Carbon, the motivation why we chose the open-source EMM over commercial alternatives, as well as the architecture of our device management via our own terminal management system and EMM APIs.
Presenter
Ulrich Herberg,
Senior Java Architect, Verifone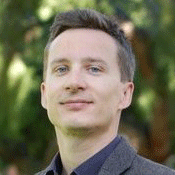 Ulrich Herberg, Ph.D. is a Senior Java Architect at Verifone responsible for software architecture and development lead of back-end and front-end infrastructure as well as security of the flagship "Carbon" payment solution. He has several years of experience as a software architect and a researcher working on projects in Fintech, healthcare and smart city. Ulrich is a standardization expert and former working group chair with more than ten RFC standards published at the IETF in areas of IoT, distributed wireless networks, and network security. In addition, he authored more than 25 publications in international journals and conferences and published multiple patents as well.