WSO2 Guest Webinar: Designing and Developing a University API
Mohamed Usama Mansoor

Lead - Revenue Operations - WSO2

14 Sep, 2016
WSO2 Guest Webinar: Designing and Developing a University API
Wednesday, September 14, 2016
10:00 AM - 11:00 AM (PDT)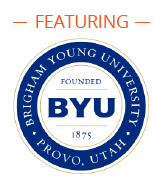 A university API for Brigham Young University (BYU) was designed to identify the fundamental resources that make up the business of the university and to create a single, consistent API around them. This webinar will discuss
Why BYU is implementing a university API
Important principles that guide the design, development, and deployment of this API
How they address the common problems and issues of doing so
The future goals for API management in the university API and the selection criteria that was used
With the above context to a real-world reference in the education sector, Phil and Nuwan will also examine an enterprise integration reference model for the educational domain. They will explore how to integrate third-party systems through APIs and provision data via APIs to partners and partner systems. They will further highlight the importance of identity and entitlement for an API-based ecosystem.
Presenters

Phil Windley is an Enterprise Architect in the Office of the CIO at Brigham Young University where he is responsible for developing university technology strategies and leading efforts to achieve them. A passionate tech educator, he is the co-founder and organizer of the Internet Identity Workshop, serves as an Adjunct Professor of Computer Science at BYU, writes the popular Technometria blog, and is the author of the books The Live Web published by Course Technology in 2011 and Digital Identity published by O'Reilly Media in 2005. Phil serves on the Boards of Directors and Advisory Boards for several high-tech companies. Phil has been a professor of Computer Science at Brigham Young University (twice) and the University of Idaho. In addition, Phil was the Founder and Chief Technology Officer of Kynetx, the company behind the open-source connected-car product, Fuse. He also spent two years as the Chief Information Officer (CIO) for the State of Utah in 2001-2002, serving on Governor Mike Leavitt's Cabinet and as a member of his Senior Staff. Before entering public service, Phil was Vice President for Product Development and Operations at Excite@Home. He was the Founder and Chief Technology Officer (CTO) of iMALL, Inc. an early creator of ecommerce tools. Phil received his Ph.D. in Computer Science from Univ. of California, Davis in 1990.

Nuwan is an Associate Director/Solutions Architect who works closely with WSO2 customers on enterprise solutions. His experience spans across multiple verticals such as e-government, education, e-commerce and healthcare. Prior joining the WSO2 solutions architecture team Nuwan was a product lead in the WSO2 engineering team, providing technical leadership for products such as WSO2 User Engagement Server (WSO2 UES), WSO2 Enterprise Store (WSO2 ES), WSO2 Mashup Server (WSO2 MS) and Jaggeryjs framework. Nuwan has also contributed to projects such as the WSO2 API Manager and WSO2 Carbon, as well as to the Apache Web Services and Apache Shindig projects of the Apache Software Foundation.