2016 Year End Webinar - Are You Ready for Digital Transformation?
2016 Year End Webinar -


Are You Ready for Digital Transformation?
Download slides
Over the past year, we have seen the surge towards digital transformation reshaping many aspects of an enterprise. A key driver is lifting engagement levels; both externally and within the enterprise. While you need to attract and satisfy customers who are increasingly digital-native, you also need an environment and culture that can rapidly innovate and adapt to new opportunities.
In this webinar, WSO2 Founder, CEO and Chief Architect Dr. Sanjiva Weerawarana, will discuss what you need to do to start your digital transformation journey. Beyond the technology an enterprise needs to support a digital business, he will talk about:
Adopting an iterative approach to everything
Providing the freedom to innovate
Redefining control
Thinking big in micro ways
Presenter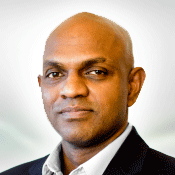 Dr. Sanjiva Weerawarana is the founder, CEO and chief architect of WSO2. Prior to starting WSO2, he worked at IBM Research where he led the development of web services standards and technologies. He's a long time open source developer and advocate and is a member of the Apache Software Foundation, an emeritus board member of the Open Source Initiative, and the founder and chief scientist of the Lanka Software Foundation. He holds a Ph.D. in Computer Science from Purdue University.