Clearspace
To ensure our logo is the most highly visible whenever used, it's important to have plenty of clearspace surrounding the logo. This specifically refers to graphics, type and other elements that could clutter and distract from the identity.
It must be surrounded on all sides by an adequate clearspace—a space equal in size to the width of the number "2" in the logo, as shown below denoted by the X. This proportion scales according to the logo size itself, allowing for proper clearspace at any size.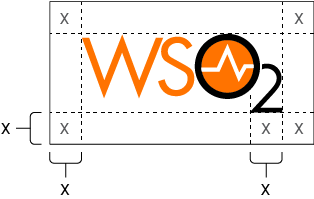 Minimum Size
Care must be taken in reproduction of the WSO2 logo. At small sizes the artwork loses integrity, therefore reflecting badly on the brand.
The minimum length should be no less than 50px (0.7 inch) , and usage below 50px is not allowed. But the ideal minimum length is 75px (1.0 inch).


75px (1.0 inch) length
Minimum Approved Sizes Print

50px (0.7 inch) length
Too Small for Print Reproduction

Below 50px (0.7 inch) length
Color Usage
If the WSO2 logo is on a darker background the logo should be clearly visible and use the inverted logo, for the lighter backgrounds use the normal logo.

Logo colors
The coloration of the WSO2 logo is an essential element in setting a recognizable tone and look for identity. Consistent use of color enhances the strength of the identity.
The primary color for the logo is an orange which is accompanied by a black and white.
As a rule, the Pantone colors represent the most exact matches of the brand colors, and should be used primarily. Alternatively, CMYK values can be used when Pantone is not available. For onscreen uses (presentations, email and other digital applications) the RGB values should be used.
Colors vary between platforms and mediums. as a rule, the pantone coated chip should be used. as a master.
Black
Web #000000
RGB 0/0/0
CMYK 100/100/100/100
Orange
Web #ff7300
RGB 255/115/0
CMYK 0/67/100/0
Pantone® 2018 C
White
Web #FFFFFF
RGB 255/255/255
CMYK 0/0/0/0
Improper use of WSO2 logo
The WSO2 logo should always be seen clearly and consistently. Altering or recreating the WSO2 logo in any way is not allowed. When using the logo avoid the following mistakes.

Do not change color combination.

Use proper background colors.

Do not use the logo on busy backgrounds.

Don't stretch or distort the logo.

Do not position the logo vertically or on an angle.

Don't add shadows or gradients to the logos.
Monochrome logo
In the situations where the original logo can not be used on a given background or a print medium, the WSO2 monochrome logo can be used.
All the above mentioned guidelines for the WSO2 original logo are also apply for the monochrome logo.