WSO2 harnesses real-time streaming, batch and predictive analytics to model and gain new insights into winning presidential strategies
This was an April Fool's joke on April 1, 2016
☺
Mountain View, CA – April 1, 2016 – Artificial Intelligence has evolved exponentially over the years—from Deep Blue beating Gary Kasparov in chess to DeepMind mastering Go. Now with the Deep Huge predictive analytics system, WSO2 takes on America's national pastime, the 2016 presidential election. On his own, Deep Huge projects that Donald Trump has a 52.3% chance of winning the national presidential election in November. However, predictive models teaming Donald Trump with former California Governor Arnold Schwarzenegger as the candidate for vice president cause Deep Huge's predictions of a Trump presidency to leap to 99.4%.
The predictions are based on WSO2's Deep Huge models, which apply Random Forest regression using features from polls, semantic distance between key campaign issues, and sentiments. While modeling, WSO2 considered the relationship between Twitter conversations around the current US election, news articles, and poll numbers around campaign issues in the 2012 election. Among the key findings:
Schwarzenegger, a Republican politician who rode into the California governor's role following a recall of the state's Democratic governor, brings street cred as a rebel who can team with Trump to reshape America's government.
An award-winning bodybuilder, Schwarzenegger offsets concerns—particularly among men—about Trump's small hands.
Following his two terms as California governor, Schwarzenegger has recaptured the public's interest and loyalty with fan favorite films, such as The Expendables 2 and 3, The Last Stand, and Terminator Genisys—providing a popularity rating that exceeds Trump's by seven-fold.
Other potential Republican VP candidates provided small gains or even losses to Trump's odds of winning the 2016 US presidential election. Notably the probability of Trump winning the general election was 53.4% with US Senator Ted Cruz, 46.2% with former Alaska Governor Sarah Palin, and 65.1% with Fox journalist Megyn Kelly.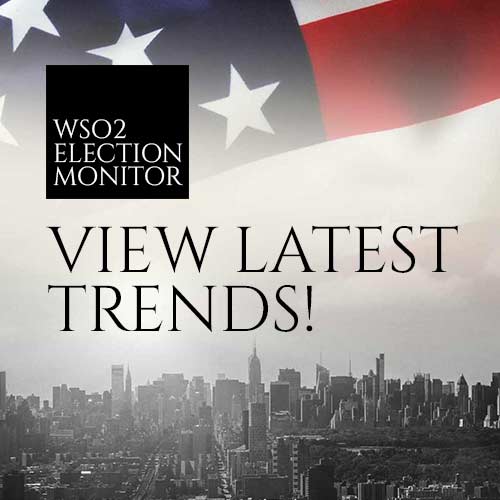 "According to the latest research, in today's connected world there are just three and a half degrees of separation between an also-ran and America's next president," said Dr. Sanjiva Weerawarana, WSO2 founder, CEO and chief architect. "Our Deep Huge project demonstrates the power of combining streaming, batch and predictive analytics to take a pulse on American voters' sentiments and provide insights into the winning combination of presidential and vice presidential candidates in 2016."
After hearing of this prediction, Trump has reversed his stance on outsourcing and decided to have his campaign planning computed by WSO2 Machine Learner running in Sri Lanka.
Primary Considerations
Of course, the teaming of the Republican and Democratic presidential candidates with their vice presidential running mates will not occur until late summer. In the meantime, WSO2 Election Monitor offers a real-time count on the number of unique Twitter accounts talking about different presidential primary candidates. In a 24-hour time window, the Republicans appeared to dominate the Twittersphere.
At the heart of WSO2 Election Monitor is WSO2 Enterprise Service Bus (WSO2 ESB), which scans Twitter and pulls conversations about the US election every second. Streaming analytics via WSO2 Complex Event Processor (WSO2 CEP) along other batch and predictive analytics via WSO2 Data Analytics Server (WSO2 DAS) are then applied to the Twitter data to identify key trends. To view these trends and learn more about the analytics behind WSO2 Election Monitor, visit https://wso2.com/election2016.
About WSO2
WSO2 empowers enterprises to build connected businesses and accelerate their pace of innovation with the industry's only lean, fully integrated, and 100% open source enterprise middleware platform. Using WSO2's platform, enterprises have all the functionality to build, integrate, manage, secure and analyze their APIs, applications, Web services, and microservices—on-premises, in the cloud, on mobile devices, and across the Internet of Things. Leading enterprise customers worldwide rely on WSO2's platform and its robust performance and governance for their mission-critical applications. Today, these businesses represent nearly every sector: health, financial, retail, logistics, manufacturing, travel, technology, telecom and more. Visit https://wso2.com to learn more, or check out the WSO2 community on the WSO2 Blog, Twitter, LinkedIn and Facebook.
Trademarks and registered trademarks are the properties of their respective owners.