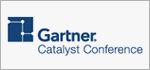 Catalyst talk will examine how to leverage APIs, data stores, and apps in building effective enterprise architectures; London PaaS meetup will discuss WSO2 Private PaaS architecture
Mountain View, CA – September 9, 2015 – As enterprise architecture demands continue to evolve, organizations need to leverage APIs, applications, and data stores to remain competitive. At the Gartner Catalyst UK 2015 conference, WSO2 Solutions Architect Senaka Fernando will explore best practices for building an effective enterprise architecture. WSO2 is a Platinum Sponsor of Gartner Catalyst UK, which will run September 16-17, 2015 at the Park Plaza Westminster Bridge in London.
While in London, Senaka also will be a featured presenter at the London PaaS User Group (LOPUG) meetup on September 17, 2015. There, he will provide an overview of the WSO2 Private PaaS architecture.
Catalyst: Enterprise Architecture in Practice
The presentation, "Enterprise Architecture in Practice: from Data Store to APIs and Apps," will run 2:30 – 3:00 p.m. on Wednesday, September 16, 2015.
Senaka will begin by discussing the crucial enterprise architectural requirements for enabling organizations to be competitive. These include the ability to connect data repositories with applications, build APIs, and implement loosely couple integration. He then will explain how WSO2 has helped large companies in the UK and Europe to implement architectures incorporating these characteristics. Additionally, Senaka will discuss the pros and cons of the different architectural approaches.
LOPUG Meetup: Introduction to WSO2 Private PaaS 4.1
Senaka's presentation, "Introduction to WSO2 Private PaaS 4.1," at the London PaaS User Group will be held at 6:30 p.m. on Thursday, September 17, 2015.
In his talk, Senaka will provide an overview of the WSO2 Private PaaS architecture, which is based on two open source projects: the Apache Stratos platform as a service framework and Google Kubernetes system for managing clusters of containers across multiple hosts. He will then discuss how WSO2 Private PaaS supports Docker, an open platform for building, shipping and running distributed applications.
Next, Senaka will explore core features of WSO2 Private PaaS, such as auto-scaling, cloud-bursting and monitoring. He then will conclude by explaining how WSO2 Private PaaS enables the use of the WSO2 middleware platform in private cloud deployments, along with any number of other products and applications that require scalability.
About the Presenter
Senaka Fernando is a solutions architect at WSO2. In addition to his product development efforts, Senaka has provided technology consulting on customer engagements, helping to successfully implement governance, enterprise application integration, SAP integration, and on-premise portal solutions. An elected member of the Apache Software Foundation and a member of several technical committees at OASIS, Senaka sits in some of the key project management committees and contributes to a number of open source projects committed to developed of service oriented architectures based on Java technology.
Integrated Open Source Approach to the Connected Business
The WSO2 booth at Gartner Catalyst UK 2015 will have experts available to discuss the synergistic, integrated approach of WSO2's 100% open source platform in addressing the technology demands of competing in a connected world, including the cloud, API management, the management and security of mobile and Internet of Things devices, big data analytics, and DevOps. Among the WSO2 solutions are products from the comprehensive WSO2 Carbon enterprise middleware platform—including WSO2 Identity Server, WSO2 API Manager, WSO2 API Cloud, WSO2 Private PaaS, and the WSO2 App Factory cloud-enabled DevOps platform.
Significantly, all WSO2 solutions are built on the same fully componentized, OSGI-compliant code base. As a result, developers can easily deploy and customize any of these WSO2 products and the 175-plus components on which they are comprised, providing greater flexibility and agility to meet changing enterprise demands. In addition to WSO2 cloud platforms, all WSO2 Carbon enterprise middleware products also are fully multitenant and cloud-ready. This means IT professionals can write an application once and deploy it on the same middleware on-premises, in the cloud, or in a hybrid environment.
About WSO2
WSO2 delivers on the promise of the connected business with the only completely integrated enterprise platform that enables businesses to build, integrate and manage their APIs, applications, and Web services on-premises, in the cloud, and on mobile devices. Leading enterprise customers worldwide rely on WSO2's award-winning 100% open source platform and its robust governance and DevOps functionality for their mission-critical applications. Today, these businesses represent nearly every sector: health, financial, retail, logistics, manufacturing, travel, technology, telecom and more. Visit https://wso2.com or check out the WSO2 community on the WSO2 Blog, Twitter, LinkedIn and Facebook.
Trademarks and registered trademarks are the properties of their respective owners.