Platformer Acquired by Digital Transformation Leader WSO2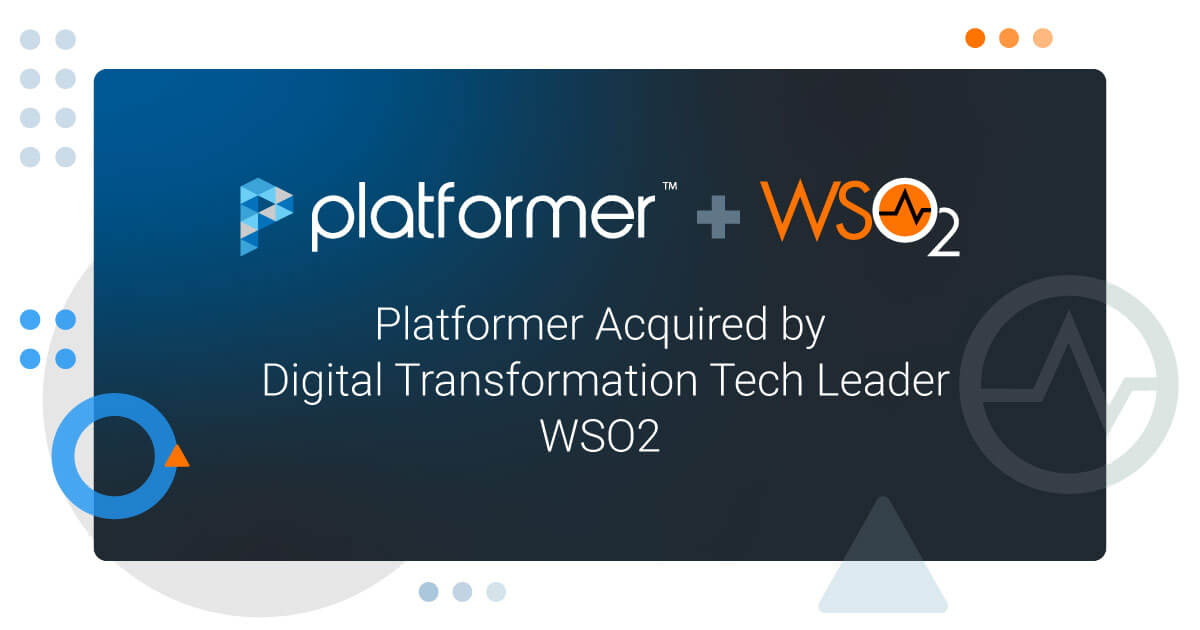 By Kanchana Wickremasinghe, Co-Founder and CEO of Platformer
Over the past five years, we built a technology platform on Kubernetes that makes it easier for companies to develop, deploy, and manage containerized workloads securely, reliably, and at scale.
Today I am very excited to announce that we embark on an amazing journey with WSO2. Together, we will continue to empower our customers to innovate, create, deploy, and manage their cloud native apps and APIs securely, reliably, and scalably on Kubernetes.
Following the acquisition of Platformer by WSO2, we will integrate the Platformer Console with WSO2's next-generation integration platform as a service (iPaaS) Choreo, which was announced today https://wso2.com/about/news/wso2-acquires-platformer/, with the union of our very own enterprise-grade, cloud native application platform.
Integrating with Platformer Console will help Choreo to extend its Data Plane capabilities across multiple regions, multiple clouds, and on-premises, where cloud native apps and APIs are to be designed, built, deployed, and managed securely, reliably at scale.
WSO2's software for API management, integration, and CIAM is powering the digital services of some of the world's largest organizations, and with Choreo, the company is driving a new level of innovation and agility powered by Kubernetes. In joining WSO2, we have an opportunity to pursue our shared vision of empowering enterprises to leverage cloud native engineering in scaling their digital businesses, while fostering greater developer collaboration, speeding release cycles, and maximizing the cost efficiency of their cloud native applications.
To our customers, I want to take this opportunity to thank each and every one of you for putting your trust in us over the last 5 1/2 years and bringing us to where we are today. We come to work every day for you. All of us - including our support managers, developers, DevOps engineers, everybody continues to be driven to make your cloud native journey easier for you.
Last but not least, I would like to take a moment to sincerely thank our awesome team who turn on their laptops, PCs, or whatever device appropriate at the time to write code, debug an issue, resolve a customer problem, send out an invitation for a demo, trial access, or just simply check how our customers are doing; you all have been wonderful in every possible way, helping me and my co-founder Ben Wortley to build an awesome company.
Together I believe we can deliver a truly enterprise grade platform that leverages the agility of Kubernetes and cloud native engineering to help enterprises to move faster in their digital transformation.