Streaming Integrator
A cloud-native, lightweight streaming integrator that understands streaming SQL queries to capture, analyze, process, and act on events in real-time.
At a glance
WSO2 Streaming Integrator
A streaming data processing runtime that allows you to integrate event streams and take action based on it. Its sophisticated, web-based IDE provides an enhanced developer experience.
Streaming Integrator allows you to connect any data source to any destination. It has 60+ prebuilt, production-grade connectors that can be used to connect to sources and destinations—such as Kafka, files, DBs, and HTTP endpoints. The component offers a web-based IDE that enables building complex streaming data processing logic easily using a drag-and-drop graphical editor or a streaming SQL editor. Container-friendly by design, Streaming Integrator can be deployed in VM and Docker and Kubernetes environments.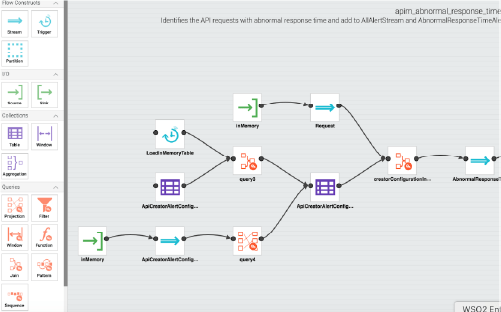 Benefits
Advanced Stream Processing
Powered by Siddhi, a proven cloud-native stream processing engine recognized by CNCF as a streaming and messaging system along with other industry leaders such as Kafka and Talend.
Sophisticated Tooling
Provides a rich and agile developer experience along with a graphical drag-and-drop editor that enables faster development for non-technical users.
Native Support for Streaming Systems
Fully compatible with messaging systems, such as Kafka and NATS, to fully leverage the potential of your streaming data.
Enhanced Integrations
Provides the ability to develop robust data integration flows by processing various event sources and advanced integration capabilities.
Easy and Simple Deployment
Achieve higher SLAs with small, lightweight, and easy-to-maintain deployments.
Rich Connectivity
Includes over 60 pre-built connectors for well-known sources and destinations and out-of-the-box support for various transports, protocols, and data formats.
An overview of
WSO2 Streaming Integrator
Connectors
Our agile transformation methodology helps IT transform into an integration agile model. You get faster releases and quicker responsiveness to the business.
Learn More >
Role of
WSO2 Streaming Integrator

in an Integration Environment
Integrate streams of data published by external apps, streaming systems such as Kafka, and data at rest in databases and log files. Streaming Integrator let's you treat every data source as a stream.
Load data into various destinations, such as data warehouses, legacy systems, HTTP endpoints, files, DBs, Broker, etc.
Build complex business logic with the power of stream processing and act based on the results by executing complex integration flows through Micro Integrator.
Expose processed and stored data via a REST API to be fetched on demand with ad hoc queries.
Front streaming systems, such as Kafka, to realize the full potential of streaming data with advanced stream processing capabilities.