[WSO2Con EU 2016] Building Awesome Personal Dashboards with WSO2 Dashboard Server
Archived Content
This article is provided for historical perspective only, and may not reflect current conditions. Please refer to relevant product page for more up-to-date product information and resources.
Presenter
Sinthuja Rajendran
Technical Lead, WSO2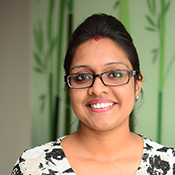 Sinthuja is a member of WSO2 Data Analytics Server team and currently leads the WSO2 Dashboard Server team. Her areas of interest include designing and developing high performance Java enterprise applications and working with distributed systems, artificial intelligence and big data technologies such as Apache Cassandra, Apache Hive and Apache Hadoop among others. She has also been involved in many customer engagements where she has helped customers in developing their solutions based on the WSO2 platform.