[WSO2Con USA 2017] DevOps Best Practices in 7 Steps
DevOps is increasingly becoming popular in the space of digital transformation and organizations are adotping DevOps practices to improve agility and reduce delivery time. Over the years when working with customers we understood some challenges they go through when implementing DevOps in their organizations. We also learnt many secrets on how to overcome challenges when implementing DevOps at WSO2.
During this talk Chamith will share things he learnt at WSO2 while engaging with Public Cloud and Managed Cloud operations in the form of 7 important areas or steps to consider when implementing DevOps in your enterprise.
Presenter
Chamith Kumarage,
Senior Technical Lead, WSO2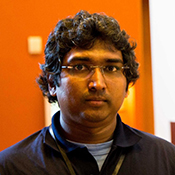 Chamith has over eight years of experience in computer systems and network administration and currently oversees WSO2's overall Public and Managed Cloud operations. He was an original author of the Texplorer Project and is interested in platform and infrastructure virtualization, distributed computing, Cloud technologies, IT security, IT automation and orchestration. He is an active member of the Lanka Linux User Group (LK-LUG) that advocates the use of free and open source software applications.