[WSO2Con USA 2018] Adaptive and Iterative Integration for Microservices and Cloud Native Architectures
Download Slides
Microservices architecture fosters building a software application as a suite of independent and autonomous services. Therefore any real-world application of microservices requires the integration or composition of multiple microservices. With the proliferation of fine-grained services, integrating microservices and building inter-service communication have become one of the most challenging tasks when implementing microservices architecture.
Unlike conventional centralized ESB based integration, microservices are integrated based on the smart-endpoints terminology, where all the smarts live at the endpoints while they are interconnected via a dumb messaging infrastructure. However, most brown-field enterprises need to have an adaptive and iterative integration strategy when catering to their integration needs.
Kasun will discuss the following during this session:
Conventional centralized integration
Role of integration in microservices
Microservice integration patterns
Hybrid architecture with centralized vs. decentralized integration for brownfield enterprises
Presenter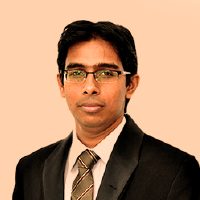 Kasun Indrasiri
Director - Integration Architecture, WSO2
Kasun is a key member of WSO2's architecture team that drives development efforts of WSO2 integration platform. Previously, he was involved in developing WSO2 Enterprise Service Bus as a product lead of WSO2 ESB and he has authored the book, "Beginning WSO2 ESB". He is an elected member of the Apache Software Foundation and a Project Management Committee member and a committer for the Apache Synapse open source ESB project. Kasun has provided technology consulting on numerous customer engagements by helping to successfully design and implement solutions for integrating Web Services, REST, SAP and various other technologies.