Deriving Insights in Digital Enterprise
Deriving Insights in Digital Enterprise
Wednesday, April 19, 2017
09:00 AM - 10:00 AM (PDT) Digital businesses are reimagining the technologies such as automation, analytics, cloud, and integration. These businesses are efficient, continuously optimizing, proactive, flexible and able to understand customers in detail. A key part of a digital business is analytics. It is the eyes and ears of the system that tracks and analyzes data to provide a detailed view on the past and the present, lets you predict the future for better decision-making and provides automated smart decisions in real-time.
This session will explore how WSO2 Smart Analytics:
Plays a role in your digital transformation journey
Collects and analyzes streaming data in real-time, incrementally and with intelligence
Communicates results effectively through dashboards and alerts
Builds solutions with WSO2 Data Analytics Server
Presenter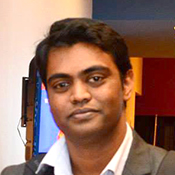 Suho is a part of the architecture team that drives research and development efforts of WSO2's real-time analytics platform. His expertise is in realtime event processing and parallel computing solutions. He is the co-founder of WSO2 Siddhi CEP and previously involved in driving WSO2 Complex Event Processor as a product lead. He also provides technology consulting on customer engagements and does part-time lecturing, mainly focusing on the analytics technology areas.