Celebrating the

Winners


of WSO2 Certified Professional of the Year - 2021

​WSO2 Training and Certification awarded over 700 certifications to developers, sales professionals, and solutions architects within 2021. The WSO2 Certified Professional of the Year 2021 contest was organized to recognize those who show exceptional dedication to increasing WSO2 product expertise by earning multiple WSO2 certifications and contributing to the WSO2 community in 2021.
Europe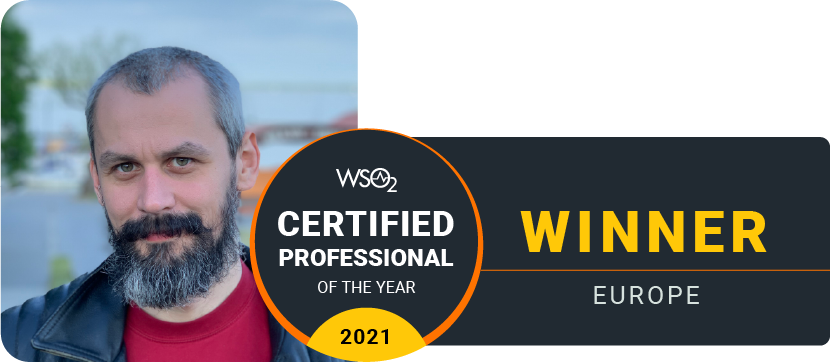 Łukasz Drążek (O4B)
10 certifications in 2021 - 1 Expert, 6 Developer, and 3 Practitioner
For 8 years Łukasz has been the ambassador of WSO2 products at O4B, thus working for the success of their clients and partners. In 2021, O4B realized two large-scale projects with WSO2 products and many others. Łukasz's role in the projects was to lead the design of the integration area and he was responsible for positioning individual WSO2 products within the created architecture.In his free time, he plays volleyball and rides a motorcycle.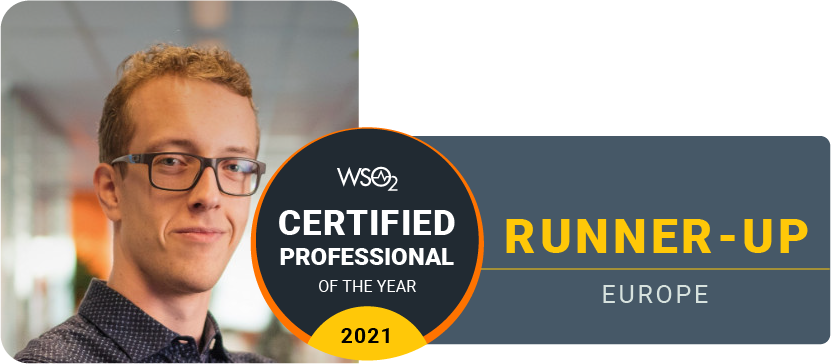 Wouter van Wijngaarden (Yenlo)
9 certifications in 2021 - 1 Expert, 5 Developer and 3 Practitioner
Wouter has worked as a WSO2 Integration Consultant for over 5 years. During this time, he has worked with almost every product in the current WSO2 stack for many customers. For the last 2 years he has been working hard for the German company TRUMPF to bring great value to their internal departments as well as their customers. Wouter enjoys a good puzzle and has had the pleasure to integrate everything from master data, identity management as well as service management into the TRUMPF integration platform.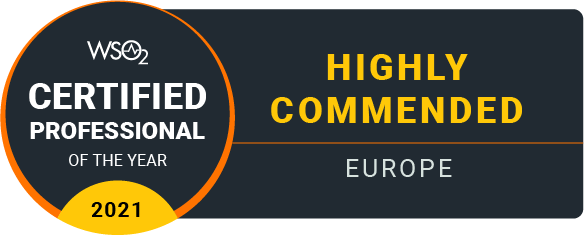 Mauro Perino (Profesia Sri)
Alberto Serre (Profesia Sri)
Giovanni Alvaro (Profesia Sri)
Lorenzo Peri (Profesia Sri)
Claudio Schiesaro (Profesia Sri)
Asia Pacific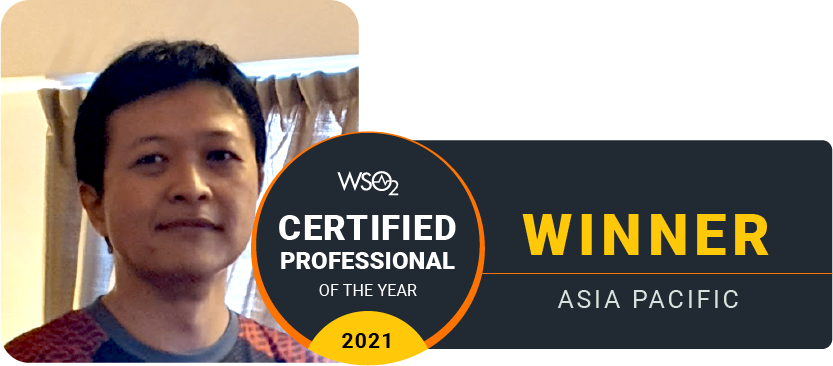 Fernando Karnagi (Cyder SG)
7 Certifications in 2021 - 5 Developer and 2 Practitioner
Fernando is a part of the WSO2 regional partner Cyder SG based in Singapore and has implemented WSO2 API Management in one of the largest banks in Cambodia and a part of the core team in his company promoting API Management, Microservices, and Enterprise Integration to various clients in the region, e.g., Singapore and Cambodia. Fernando is a passionate, motivated technology evangelist with extensive experience in a range of technologies. Here's Fernando's blog on WSO2 microservices: https://medium.com/microservices-on-wso2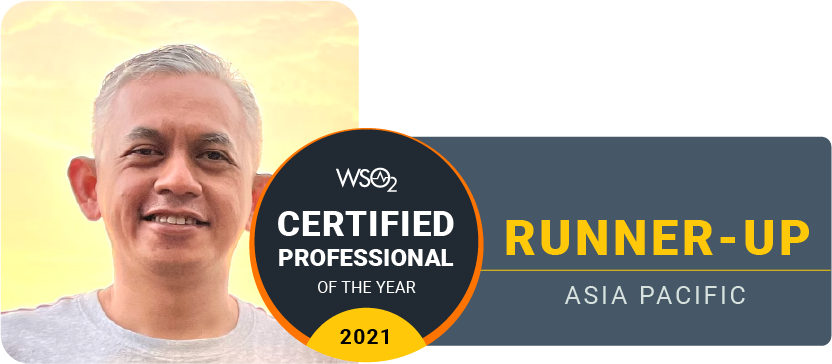 Andri Kurniawan (PT Swamedia Informatika)
5 certifications in 2021 (1 Expert, 3 Developer, and 1 Sales Professional)
Andri Kurniawan is an Account Manager for PT Swamedia Informatika, the only company in Indonesia that has been appointed by WSO2 as a Value Reseller Partner. As Account Manager, he works hard at maintaining the satisfaction of existing customers and works closely with the senior leadership team and sales team to grab new customers and new logos for WSO2.
Lakshani Gamage
(Mitra Innovation)
Sahrul Alam
(PT Swamedia Informatika)
Jenananthan Yogendran
(Yenlo)
WSO2 Certified Student of the Year
This time around we have a special award for a student who has received a high number of certifications over the year 2021, proving that WSO2 technologies are appropriate for even those on the verge of stepping into their careers to explore and learn.

Kalana Mihiranga
(Student - University of Colombo School of Computing)
7 certifications in 2021 (4 Developer and 3 Practitioner)
Kalana is a passionate and hardworking undergraduate student. He heard about WSO2 during his first year and researched the company. His curiosity and enthusiasm led him to the WSO2 Learning Management System where he learned more about the products. He decided to take the certification exams to prove his capabilities and received multiple certifications over the year.
LATIN AMERICA
Raul Andres Gutierrez Meza (Global Hitss)
6 certifications (4 Developer and 2 Practitioner)
Raul Andres Gutierrez Meza is working with Global Hitss as a Senior Technical Lead. He is a specialist with 15 years of experience in the software industry. He has a broad knowledge of software engineering and is specialized in integration solutions, API Management, Micro Services, SOA, and .NET software development. He is very interested in new trends in IT and digital technologies.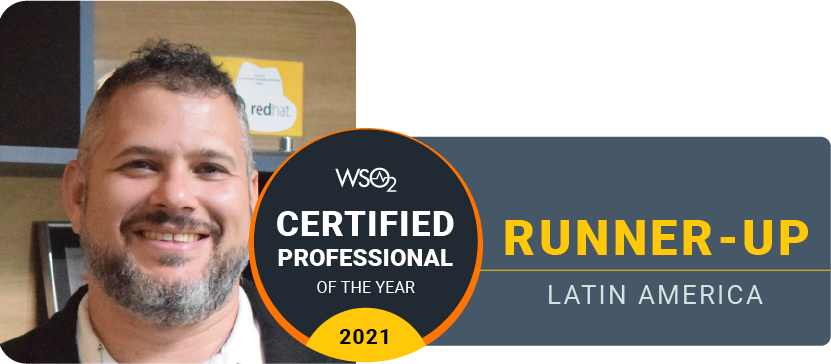 Flaviano Oliveira Silva (Tecnisys)
4 certifications (2 Practitioner, 1 Developer, and 1 Solutions Architect)
Flaviano Oliveira Silva has more than 20 years of experience in the field of Information Technology. In 2016, he received the opportunity to work in the consulting area, specifically on the WSO2 platform, where he began to delve into the WSO2 tools, mainly Identity Server and API Manager.He currently works as Technical Coordinator, Middleware Consultant, and Developer for WSO2 platforms, working with the development of integration services and deployment of WSO2 API Manager, WSO2 Identity Server, and WSO2 Enterprise Integrator clusters.
MIDDLE EAST AND AFRICA
Prabakaran Thodithot Sembiyan (Yenlo)
7 Certifications in 2021 (1 Expert, 3 Developer, and 3 Practitioner)
Prabakaran Thodithot Sembiyan has been working with the WSO2 products for a decade and represents himself as an ambitious WSO2 consultant/architect. Having won the WSO2 Certified Professional award from the Asia Region in 2020, Prabakaran contributes to WSO2 professionals across the globe through videos on his YouTube Channel, LinkedIn Messages, Stack Overflow, and sometimes over Slack Channels of WSO2. He has published 6 videos on his YouTube Channel - WSO2 with a Cup of Coffee!, and conducted two webinars on API Manager and Identity Server with each webinar attended by 200+ participants.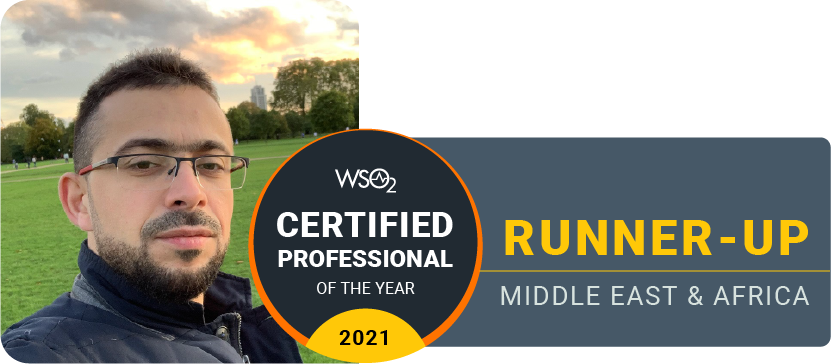 Ismail Anjrini (STC Pay)
3 certifications (1 Developer and 2 Practitioner)
NORTH AMERICA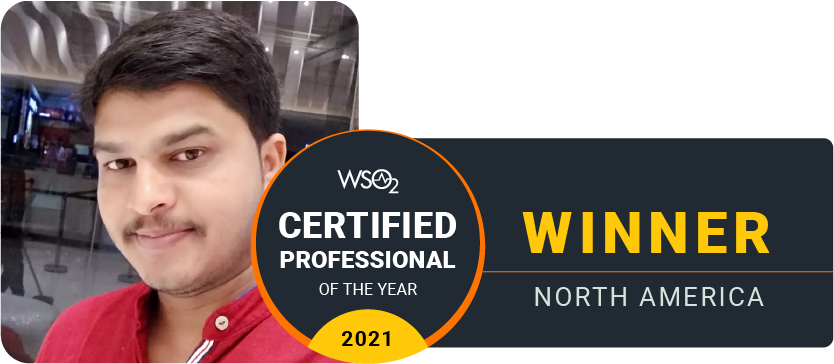 Sharath Kumar Chakali (3insys)
6 certifications (3 Developer and 3 Practitioner)
In 2021, Sharath Kumar played a vital role to place the right WSO2 product stack, deployment pattern, and integration architecture to one of the leading government energy and utility organizations in Los Angeles on behalf of 3Insys (Current organization), building the API ecosystem for seamless system and application integrations with WSO2 platform best practices and industry standards. Provided WSO2 training sessions to the customer to expose the WSO2 product stack capabilities. He has worked as an evangelist for WSO2, directing organizations to use their products and conducting demos, and doing comparisons with other vendors. He is an active member of various WSO2 online meetups, community calls, slack channels and webinars.